This Is the Whole Apatow Family Having a Euphoric Moment
Judd Apatow sensed bigger things might be ahead for daughter Maude Apatow when she had amassed 100,000 Twitter followers by the age of 14.
"We just call her @maudeapatow from now on," the filmmaker quipped to E! News in 2012 while promoting This Is 40, his third movie featuring his real-life kids, Maude and her younger sister, Iris Apatow, playing the children of his real-life wife, Leslie Mann. "People say, 'What do you think about that for a child?' and I said, 'What is healthier than giving 100,000 strangers access to your 14-year-old child? Really, that's good parenting.'"
Of course the dos and don'ts of social media ("I teach her to block people, because in real life you have to block people") made for a more serious conversation within the Mann-Apatow household, but it was pretty apparent that the teen had It Girl potential.
"She's very funny and she's kind of found her voice," Maude's dad said admiringly, the acknowledgment of her sense of humor perhaps the highest form of praise coming from the director-writer-producer of…well, the list is long.
As Judd's kids would have reminded him, perhaps with an exasperated eyeroll, "It's all in the cloud."
Ten years later, Maude, 24, has transcended her recognizable last name (which couldn't help but prompt the inevitable rhetorical question—"Gee, how did she get a job?"—when she was first starting out) with her breakout role as good-girl (but dark-side-curious) Lexi Howard on the teens-behaving-appallingly drama Euphoria, now HBO's second-most-watched show ever.
Which, as you would guess, has caused quite the stir in House Apatow.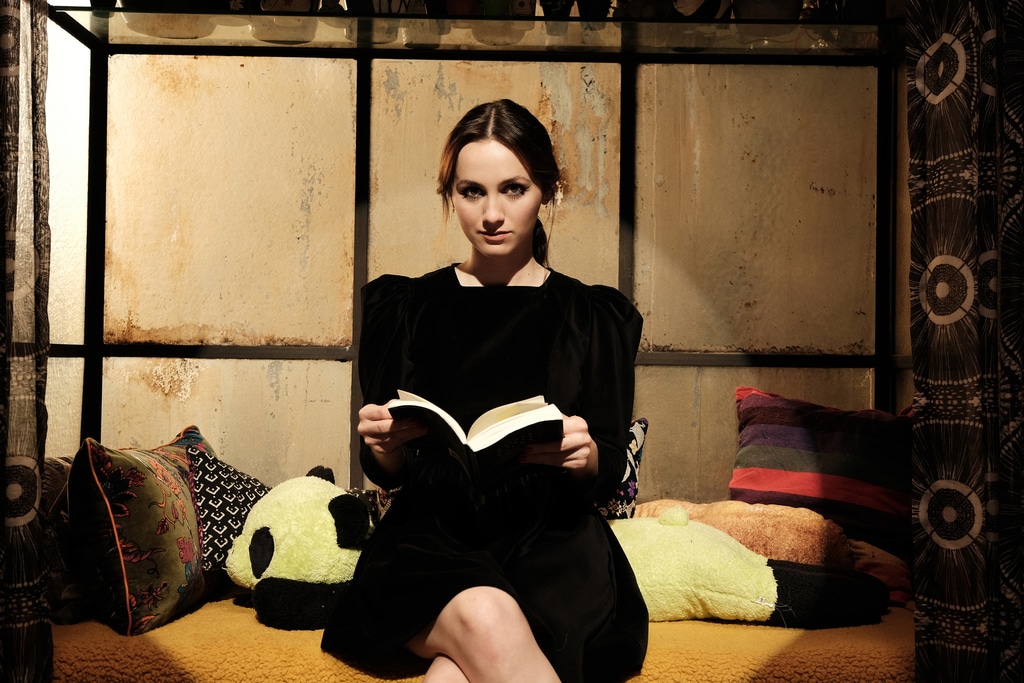 Eddy Chen/HBO
"We get scared of Euphoria," Judd told E! News at the March 5 press day for his latest film, The Bubble, a nod to the show's compelling—and often cringe-inducing—subject matter. "We're parents, we watch [episodes] months apart 'cause we would have to prepare, we'd have to see our therapist…It's difficult."
"But," he added, "we would all sit on the couch together—not with Maude, we didn't watch them ever with Maude, that's not something that she wants to go through—and then Leslie and I just cried the whole time, just bawling and very proud. And I think the show was brilliant this year, it was really remarkable, and then I feel shame about the fact that I'm not a good director.
Iris didn't want to go through that, either, incidentally, the 19-year-old telling E! News that she had weekly Euphoria watch parties with her friends. "I love the show so much," she raved. (At press time, it's unclear if any kid, ever, has watched an episode of Euphoria with a parent in the room on purpose.)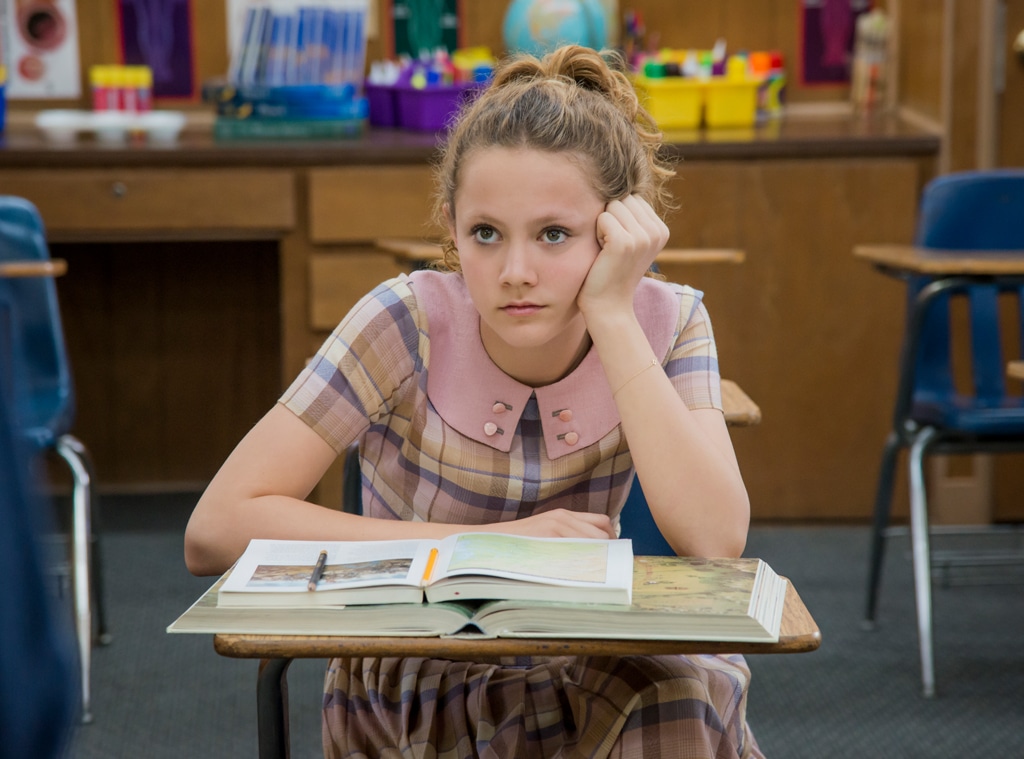 Suzanne Hanover/Netflix
Iris has also been busy making a name for herself, although, having just graduated from high school last year, her film and TV roles to date have only been in Apatow productions, including the Netflix series Love. Which is what her parents, both wary of their kids becoming "child actors," figured was best for the duration of their girls' actual childhoods.
It first occurred to Judd to cast his then 9- and 4-year-old girls in 2007's Knocked Up because he figured it'd be easier to get natural-seeming performances out of them since they'd be more inclined to act like their normal, predictably unpredictable selves around their parents. And he was right.
"I didn't want them to want to become actors, I just wanted this movie to be good," he reiterated to E! in 2012, referring to This Is 40. "So I didn't think, 'Oh, afterwards someone might see them and want to put them in a movie!' That's kind of my nightmare."
Emma McIntyre/Getty Images
Maude, however, was bitten by the acting bug right away, sharing last month on Late Night With Seth Meyers that she pulled out her own baby tooth to more convincingly look like a miner for a school play when she was about 9. Asked what her parents' reaction was, she recalled, "I think my dad was like, 'What is wrong with her? Oh no, we've raised a monster!'"
"It just got worse as I got older," she continued. "I became a tyrant. I got a couple texts when [Euphoria] aired, like, 'Triggered.'" For instance, when she was starring in Cabaret as a senior in high school, she demanded her co-star slap her more forcefully. "I'm like, 'You're embarrassing me,'" she recalled. "'You're embarrassing yourself. Just do it!'" Subsequently, "he really went for it during the show. And I was really happy about it."
So yes, it's been a minute since the days when Maude (who now boasts 4.3 million Instagram followers) and Iris weren't even allowed to watch the R-rated comedies they were in.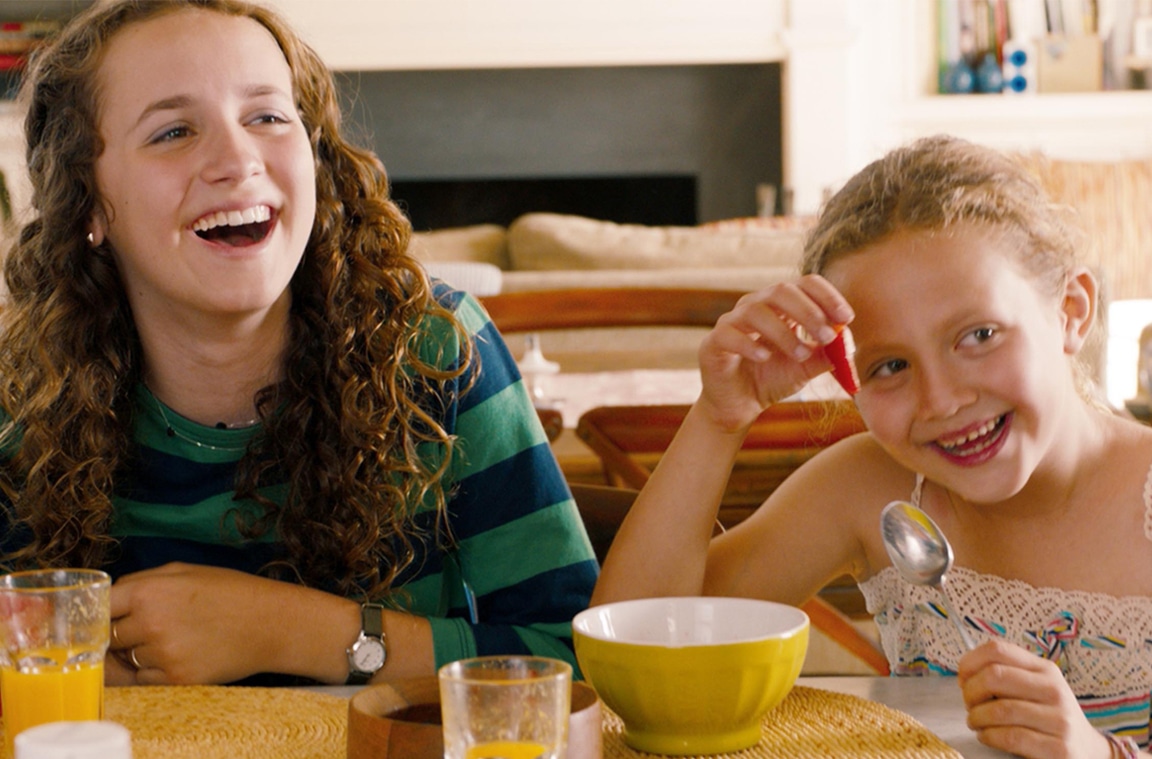 Apatow Productions/Kobal/Shutterstock
"They don't have any clue as to what's happening so they're very natural," Leslie told Hollywood Mom Blog in 2010. "They were usually in eating scenes, so we put food in front of them and rolled three cameras. Their friends can't see the movie and they can't see the movie, so it's totally off their radar. It's like hanging out with mom and dad."
But though The Bubble, in which Iris plays a TikTok star with serious dance moves named Krystal Kris, is yet another project written and directed by her father, it just may be the movie that propels her beyond the Apatow Cinematic Universe.
And she is interested in exploring what the wider world has to offer, though she counts herself lucky to be heading into the unknown armed with some pretty sage showbiz wisdom from her mom—who also is in The Bubble, though not playing Iris' mother for a change.
Meanwhile, though her kids are the social media darlings these days, Twitter trends gave the cornerstone of so many Apatow ensembles her due last month when a startled Euphoria fan found out who Lexi's parents were—"her mom is Leslie Mann and her dad is a movie director"—and the consensus was that the name recognition was directed at the right parent.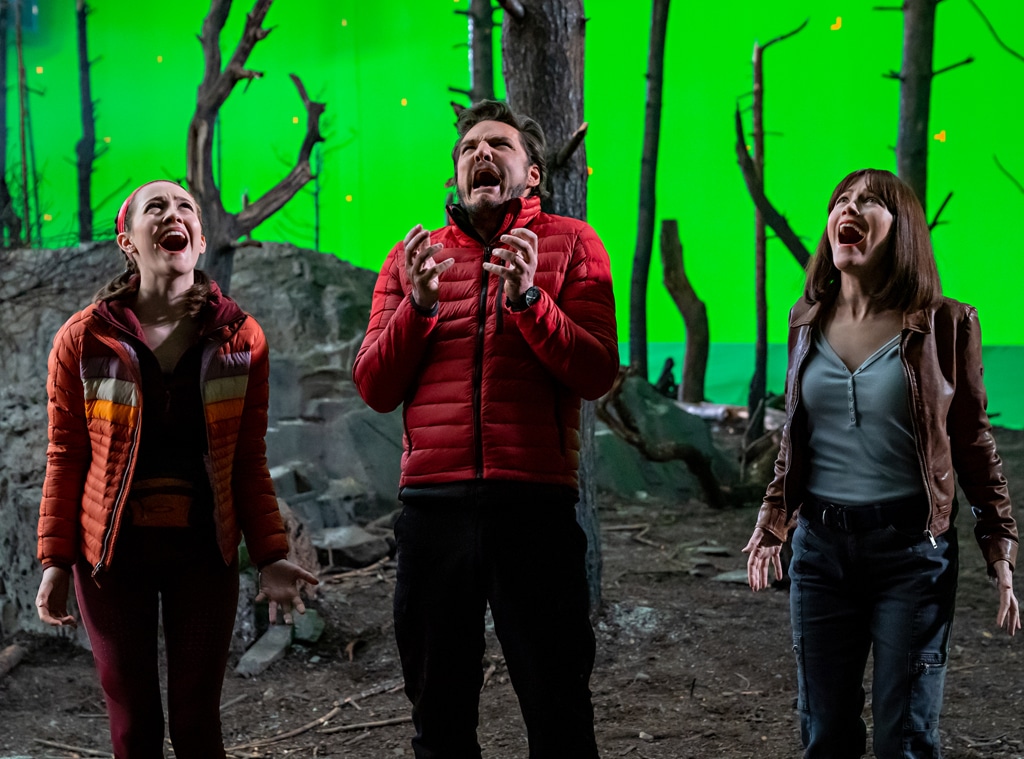 Laura Radford/Netflix
Asked by E! what advice she had passed on to Iris (actual TikTok presence: 433,000 followers), Leslie turned to her daughter and inquired, "What did you actually hear? I never stop giving advice."
Iris thought for a second and said, "I think the advice I've taken from you is, just stay committed in what you love to do and don't give up on it [even if] you get rejected a bunch of times. It takes real time and commitment, and I think that is something that has kept me going and pursuing what I wanted to do."
To which her visibly touched mom replied, "Oh, you listened to that part, that's nice. You heard me!"
What Iris was not listening to was her father's attempts at making conversation back when he was driving her to school and she just wanted to be left alone, with her music.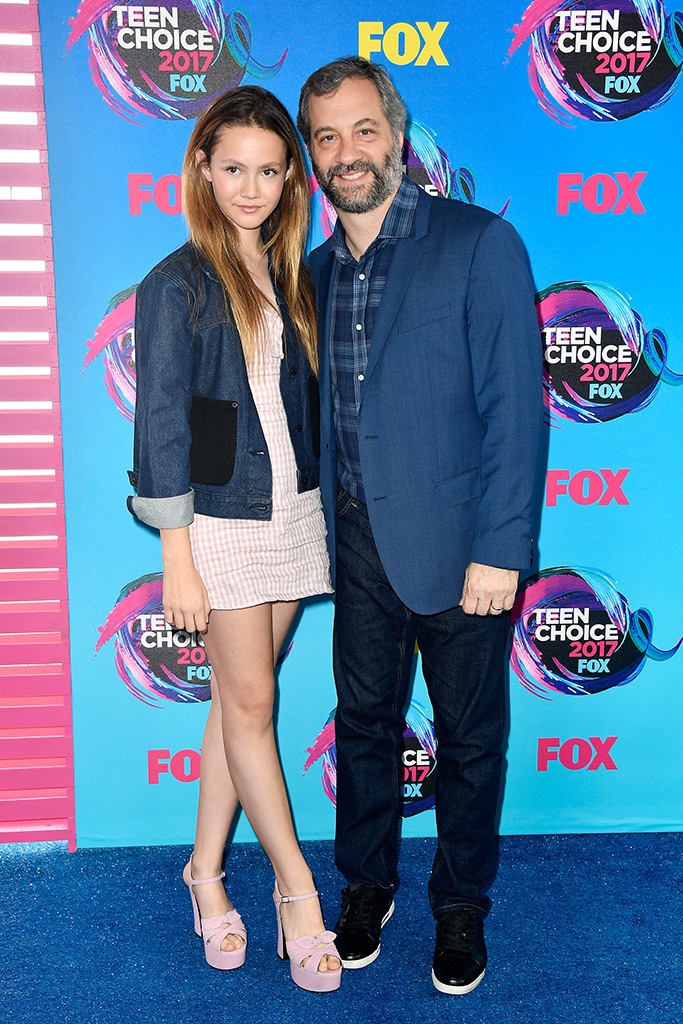 Frazer Harrison/Getty Images
"She doesn't think I'm funny, but like to such an extent that it's deeply hurtful," Judd shared on Conan in 2017 of his then-14-year-old, assuring Conan O'Brien that one day his own daughter would turn on him, too. "She says to me the other day, and she said this really seriously, she said, 'Dad, I hate your jokes so much, that sometimes my friends make jokes which are funny, but I don't laugh, 'cause you make jokes.'"
Pausing for the laughter, he added, "Then, if anyone likes me, that bugs her too. So on the rare moment that someone walks up to me and says, 'Hey, I liked Knocked Up, it really made me happy,' the second they walk away, she mocks them."
And when she overheard him giving his name while making a reservation at a restaurant, Judd told Conan, she rolled her eyes and said, "'What a Hollywood dick.'"
But Judd recognizes comedic timing when he sees it. Hence Iris being trusted to weigh in extensively on the whole TikTok aspect of The Bubble, since he actually steers clear of the app whenever possible.
"I wrote [the character] for her, but she rewrote it and improvised it because, she pointed out to me, I didn't know what I was talking about" when it came to "how TikTok stars behave and what their personalities are like," he told E! News. "And she had a very strong point of view about how to do it, which was really helpful because I had never been on TikTok."
And Iris had a great time shooting her scenes, she shared, days of finding her dad hopeless now behind her. (Or at least tucked away, for professionalism's sake.)
"My whole family loves him, including my sister," Iris said. "He's the best."
And the good times just keep rolling for the Apatows, with Judd working on a George Carlin documentary (among a dozen other things) and Leslie playing the mayor of Seattle at a time in which all the teenage girls in the world are blessed-cursed with the ability to electrocute anyone with their fingertips in the upcoming Amazon Prime series The Power.
As a mom, she gets it.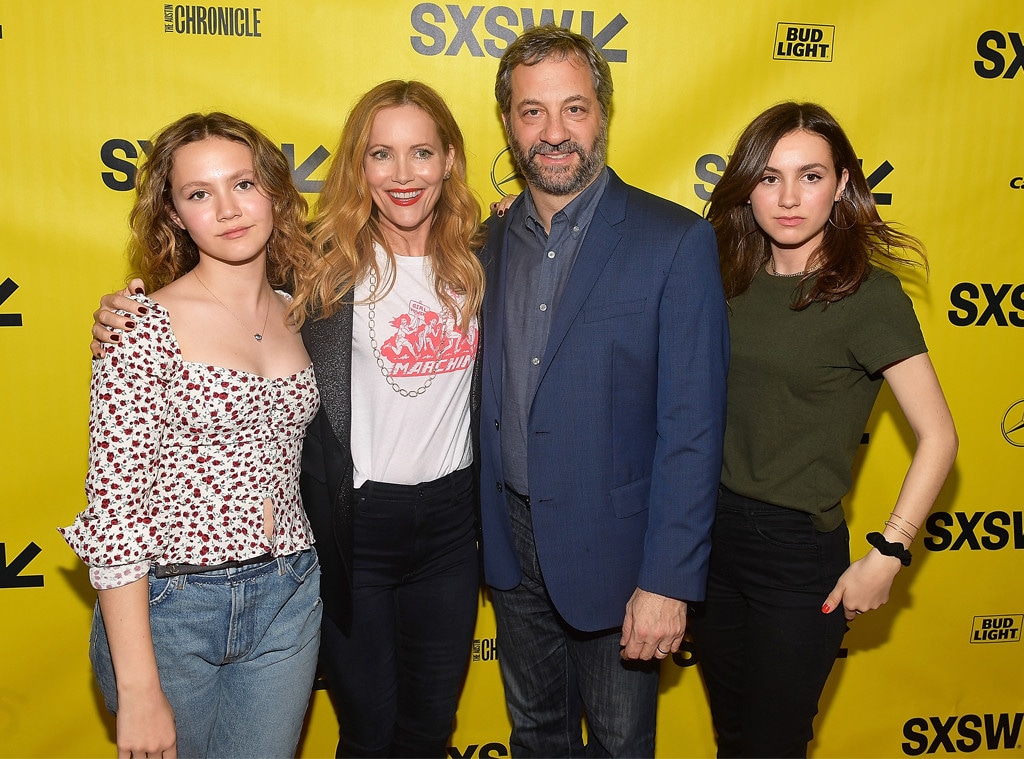 Matt Winkelmeyer/Getty Images for SXSW
And Maude—who told E! while promoting her show's recently concluded second season that she had plenty of fun in high school, if not Euphoria-grade fun—has been busy making the upcoming AMC animated series Pantheon, posing for magazine covers and otherwise easing into that It Girl life her parents could only ward off for so long.
"They're beautiful young women and they're very talented and funny, and hopefully they'll never work again," Judd said of his stardom-bound kids 10 years ago. "I don't want them to work for anyone else, just for me! When people call, I hang up."
The Bubble premieres Friday, April 1, on Netflix. Seasons 1 and 2 of Euphoria are streaming on HBO Max.