Newcastle: Historic images show 'how we used to live'
Amateur historian Fiona Kay spent three years scouring and scanning thousands of pictures from a library archive covering the history of Newcastle and North East England. Ahead of a book festival talk on her findings, she has shared some of her favourite images with the BBC.
Deep in the bowels of Newcastle's City Library is a cold storage room brimming with boxes.
Some contain negatives on plastic film, others large glass plates dating back to the mid-1800s when photography was in its infancy.
All were of interest to Fiona Kay, who works in admin for a company by day and is a keen historian by night (well, at the weekends).
In 2017 she started making regular visits to the library's archives, pulling out box after box and scanning the contents.
Before the coronavirus pandemic curtailed her efforts in 2020, Ms Kay had scanned some 5,000 pictures, properly cataloguing many of them for the first time.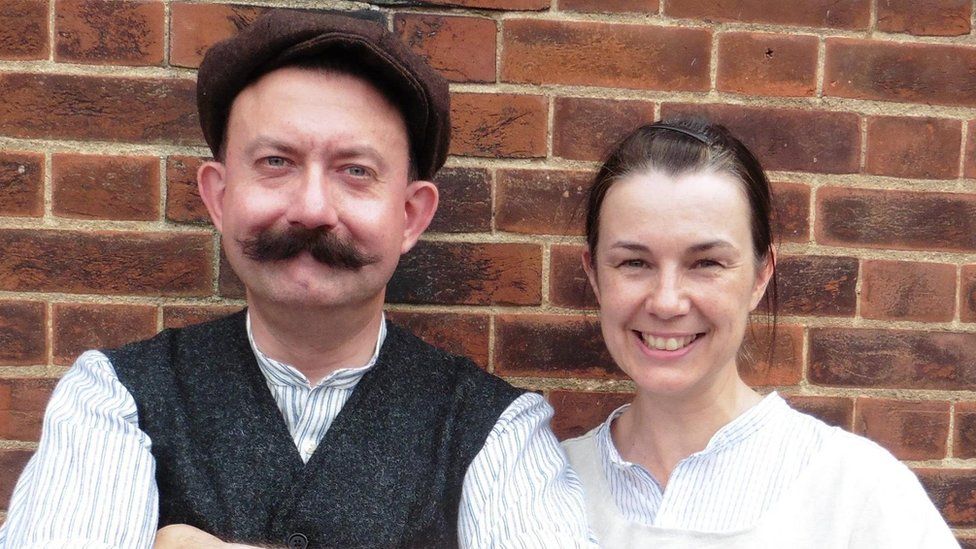 "There is just so much history squirrelled away that does not see the light of day," Ms Kay from Cramlington said.
"I was especially interested in the social history, seeing the people and what they were wearing and doing, looking at the cars and carriages, the shops and how they have changed."
With the support of the library, she and her partner Neil Storey, who is a professional historian, collated dozens of pictures for a book, Geordie Newcastle: How We Used to Live, published by Tyne Bridge Publishing.
On Monday, Ms Kay will give a talk at the library as part of the Books on Tyne festival.
She is hopeful of one day getting back into the library's archives, estimating she has only scanned a third of its contents.
"It's both daunting and exciting," Ms Kay said.
Here are some of her favourite images.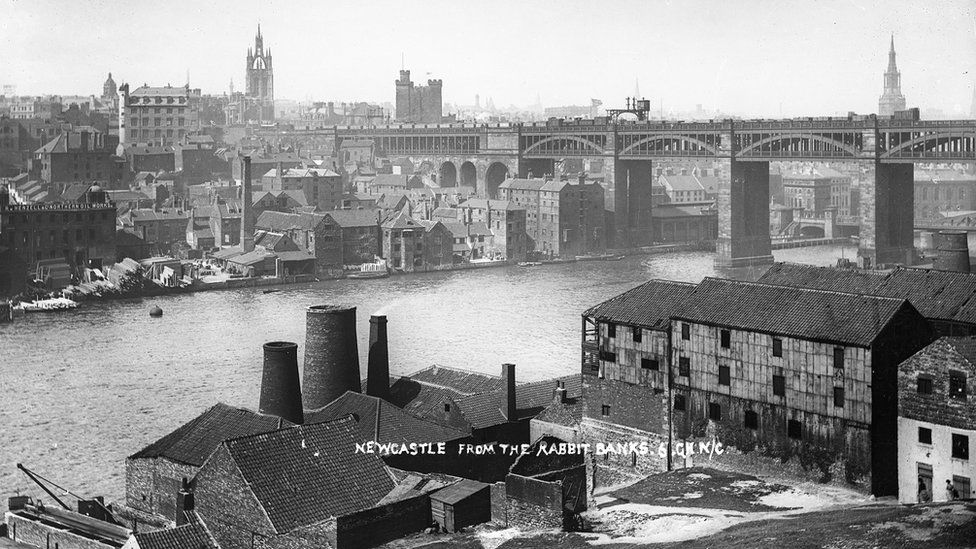 The first picture shows a view of Newcastle as seen from The Rabbit banks in Gateshead across the Tyne in about 1890.
"In those days the river was lined with working factories, wharves and warehouses and the industries caused smog to hang in the air over the city," Ms Kay said.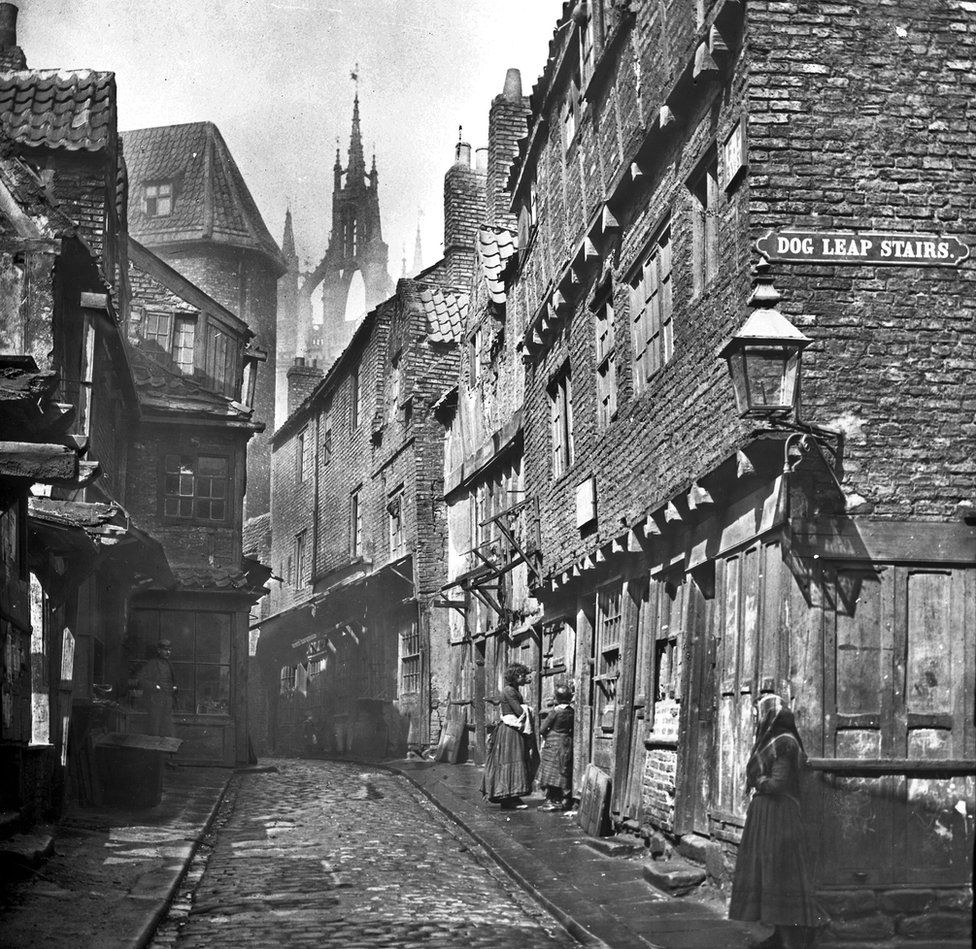 Ms Kay's second picture shows a view of Castle Garth and Dog Leap Stairs also taken in about 1890.
"Although there was a certain Dickensian charm about it, the living conditions within these old buildings were often squalid and unsanitary and many folks simply did not have the money to move out from them," she said.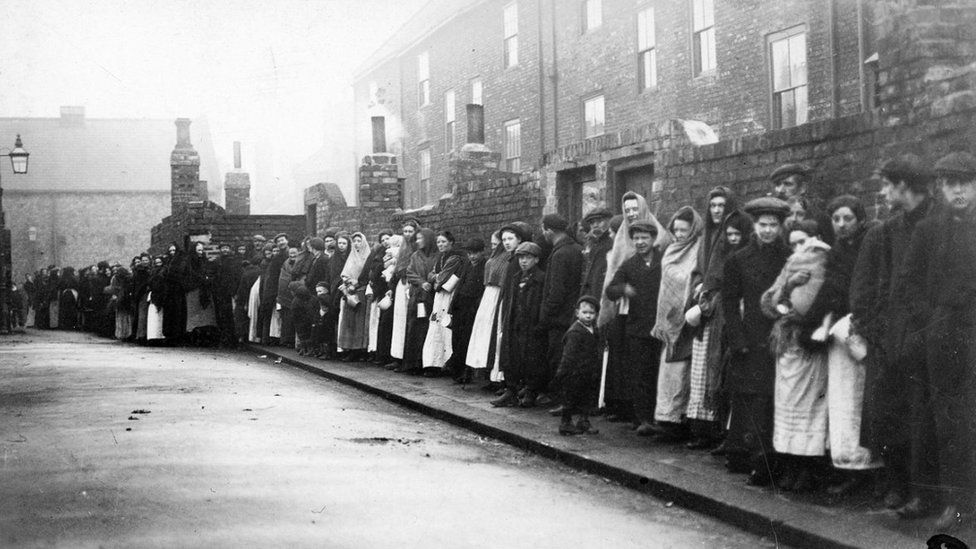 Ms Kay said she especially liked finding pictures of people, such as the above image showing a line of "hard-up folks" waiting for free food from the St Ann's soup kitchen in 1912.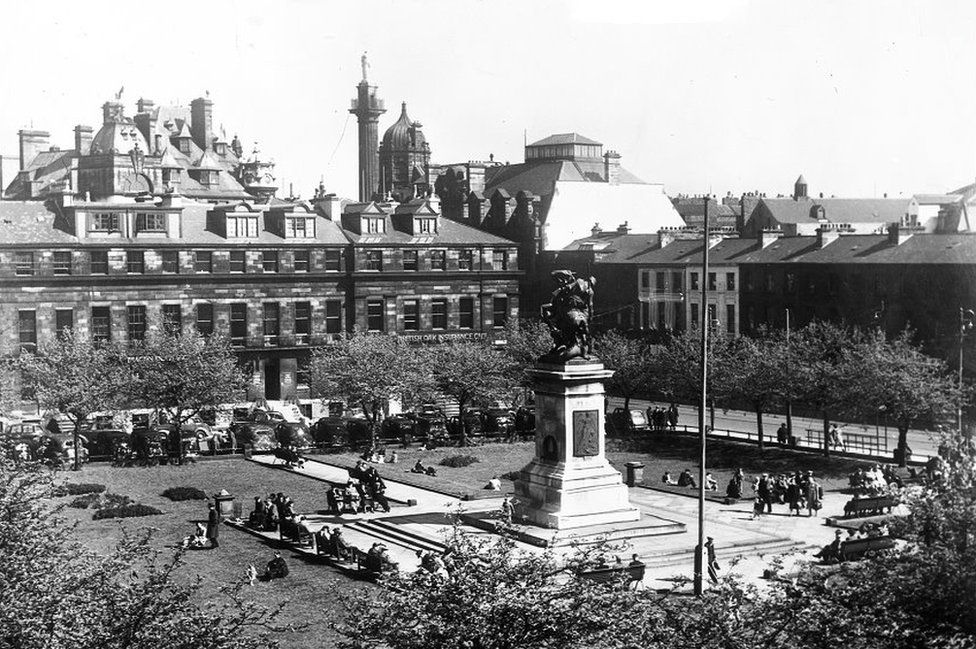 Visitors to Eldon Square today will find a busy shopping area, but in 1933 it was still surrounded by Georgian houses.
"It was an area of tranquil calm in the city centre," Ms Kay said.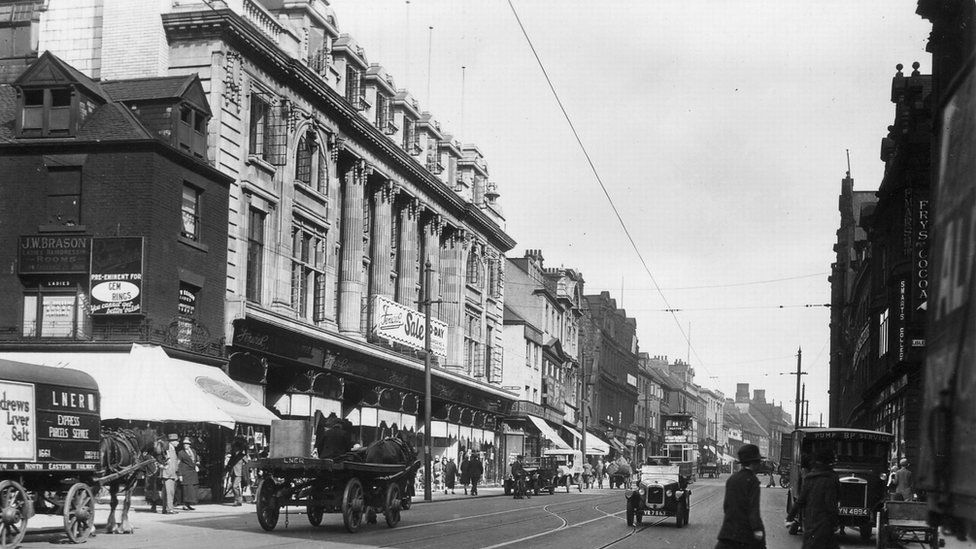 Northumberland Street, as seen in the above picture in 1925, formed the "shopping heartland" of Newcastle along with Grainger Street, Ms Kay said.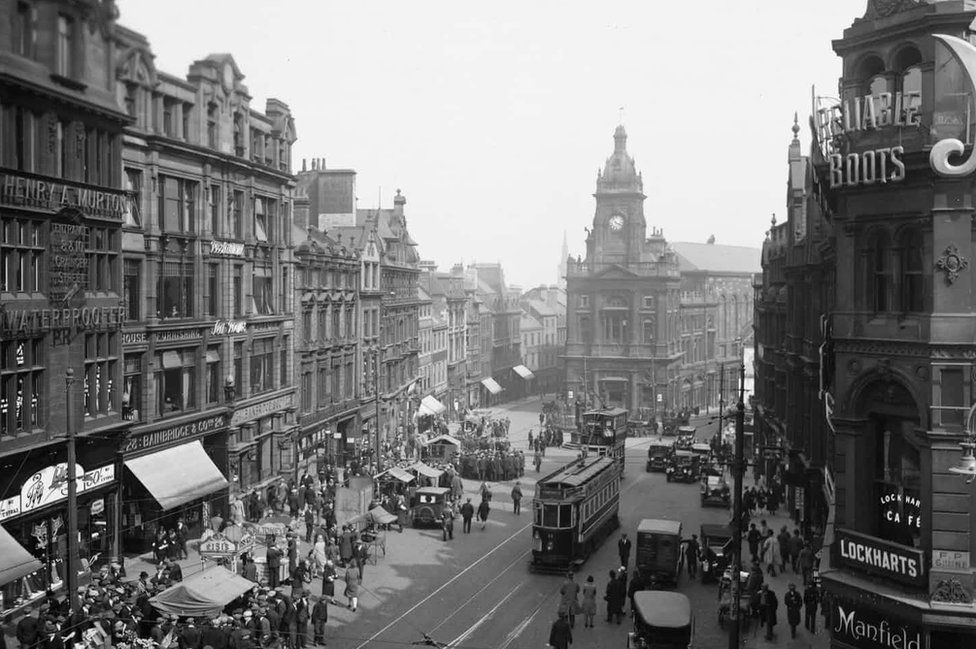 The Bigg Market is perhaps best known now for its varied bars and nightlife, but in 1930 it was a popular market.
"This area always seemed to be bustling with small crowds, not only visiting its shops or as visitors to events held at the old town hall, but they were also drawn to the market stalls, notably Risi's and Mark Toney's ice creams," Ms Kay said.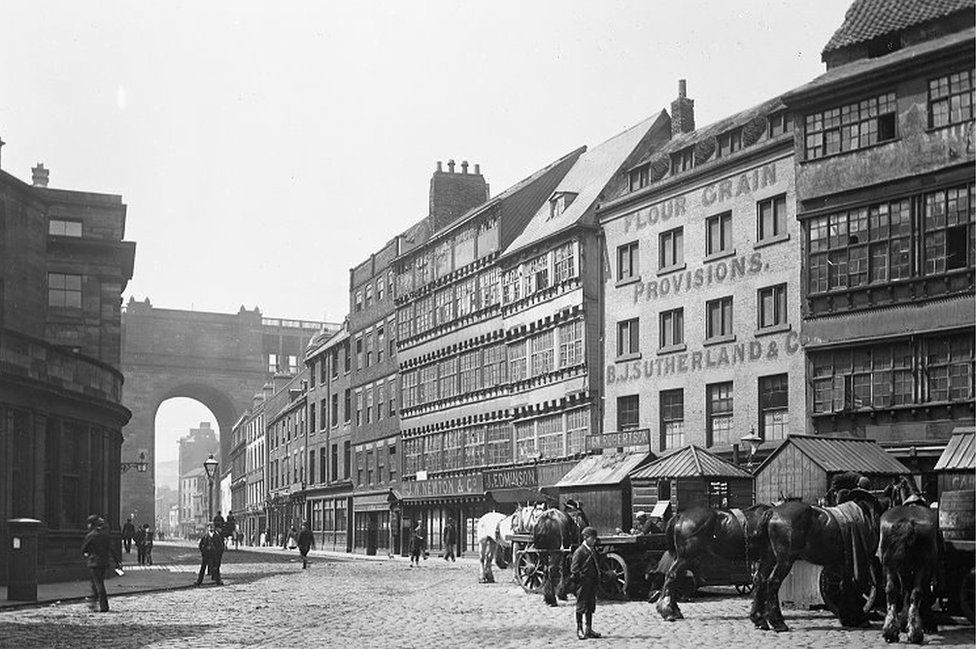 Ms Kay said she liked pictures showing people going about their business, as seen in the above picture of Sandhill in about 1895.
"In the foreground are the carriers horses, carts and shelters but it was a stiff old climb for the hand barrow carters who transported goods from Quayside to Toon," she said.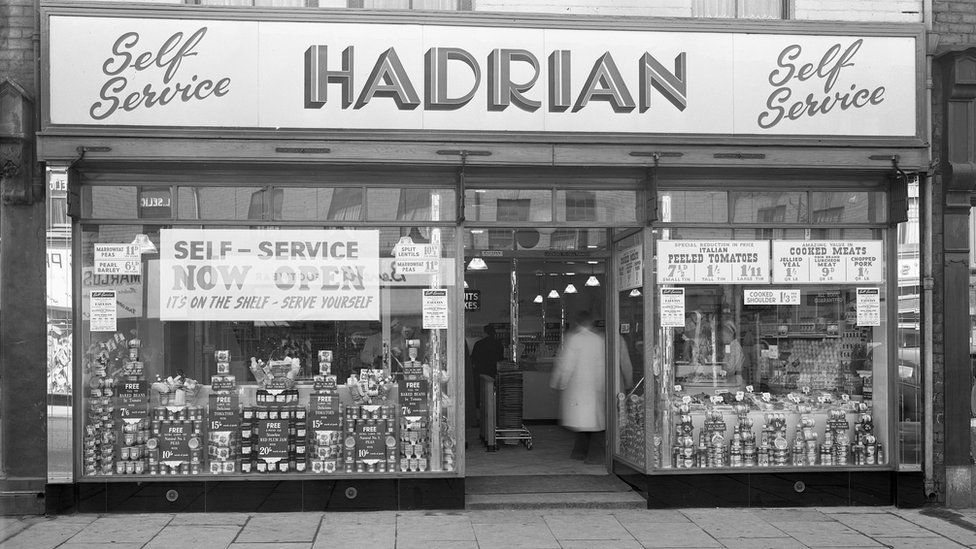 The above picture showed Newcastle advancing into the modern age in the 1950s, Ms Kay said, with Hadrian grocery shop in Wallsend offering the revolutionary idea of self-service.
"The concept of a self-service shop was still new to the British public who were used to asking at a counter and being served with goods they wished to purchase," Ms Kay said.