New EU drive to remove extremist web content
New EU drive to remove extremist web content
EU ministers say the bloc needs to adopt a law this year obliging internet firms to remove extremist propaganda within an hour of it being reported.
The EU has been discussing such a regulation for more than a year, but the recent terror attacks in France and Austria have given it new urgency.
Interior ministers said the text must be agreed soon with the EU Commission and European Parliament.
They also urged more EU data-sharing and more systematic border checks.
Both German Interior Minister Horst Seehofer and EU Home Affairs Commissioner Ylva Johansson called for an agreement by Christmas on the new "regulation on terrorist content online (TCO)".
The ministers' joint statement called for a "rapid and effective instrument to counter terrorist content online within an hour or less of its being reported".
The Austrian authorities have found intelligence lapses which allowed the Vienna gunman, identified as a dual Austrian-Macedonian national, to slip under the police radar – yet he had served a jail term for seeking to join jihadists in Syria.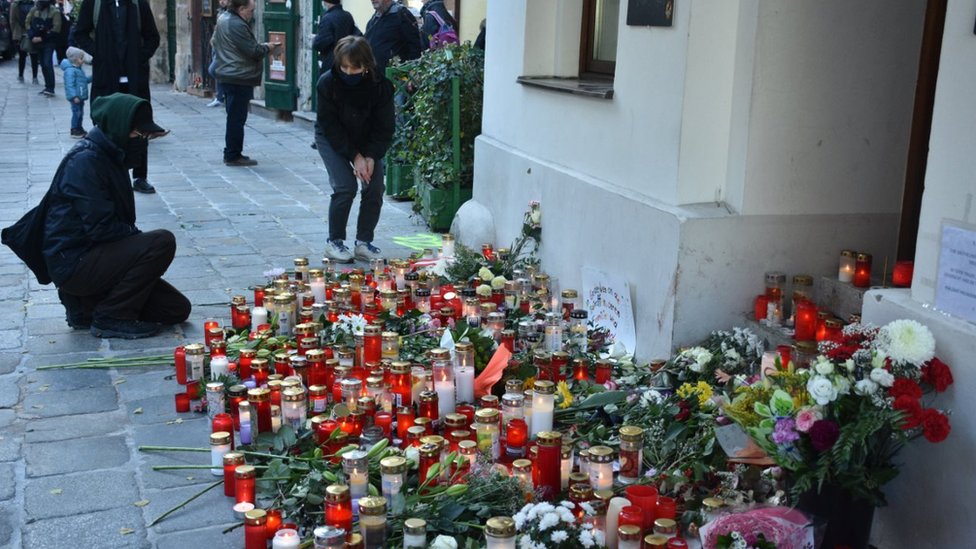 The gunman opened fire on 2 November on people relaxing in a popular central district, killing four, before police shot him dead.
The investigation has established that Kujtim Fejzulai, 20, had been released early from jail in December, had tried to buy ammunition in Slovakia in July, and had also met German and Swiss Islamists in Vienna that month.
This week Austrian police raided more than 60 addresses allegedly linked to Islamist extremists and seized millions of euros of cash. Dozens of suspects are under investigation.
Ms Johansson said another priority must be tighter controls on the EU's external borders, so that terror suspects could be tracked more systematically.
Co-ordinating such checks between 27 member states has proven difficult, as most are in the passport-free Schengen zone where border checks are minimal.
Ms Johansson said a study by the EU border force Frontex last year found that 22% of those entering the Schengen zone had not been recorded in the digital Schengen Information System.