Nasa's next Mars rover will be called Perseverance
Nasa's next Mars rover will be called Perseverance
The American space agency has a new name for the rover it will be sending to the Red Planet this summer.
To date, the project has been known only by its code name – Mars 2020.
From now on, it will be referred to as the Perseverance rover.
The name came out of a schools competition that drew 28,000 entries.
The Perseverance rover will begin the process of trying to bring rocks back to Earth for study.
It will trundle through an equatorial crater, looking for the best samples it can cache for retrieval by a later mission.
Scientists think this will be the best approach to establishing whether or not life has ever existed on Mars.
Nasa's naming competition asked children to submit their favoured name along with a supporting 150-word essay.
An army of volunteers — educators, professionals and space enthusiasts — was employed to whittle down the avalanche of ideas into a more manageable shortlist of nine on which the public was then asked to vote.
Nasa's director of science, Thomas Zurbuchen, announced the winner on Thursday.
The name Perseverance was suggested by Alexander Mather, a 13-year-old student from Virginia.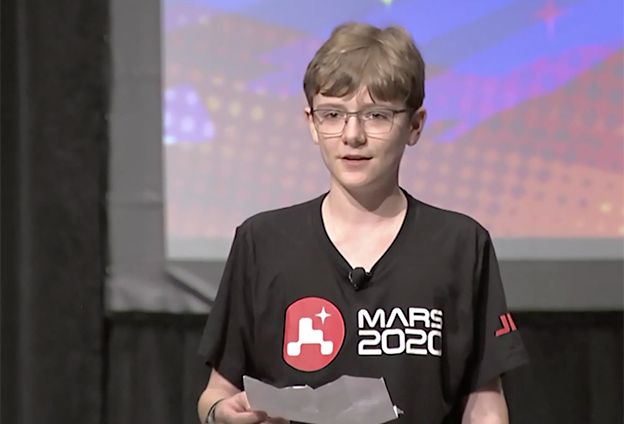 The competition follows in the tradition of previous Mars rover missions.
Nasa's first wheeled robot, which landed on the planet in 1997, was called the Microrover Flight Experiment until a 12-year-old student from Connecticut suggested the name Sojourner, in honour of abolitionist and women's rights activist Sojourner Truth.
The 2004 rovers Spirit and Opportunity got their names from an Arizona student, and the agency's most recent vehicle, Curiosity, received its moniker from an 11-year-old Kansas pupil.
Alexander Mather, who wants to be a Nasa engineer when he grows up, had referenced some of these missions in his winning essay.
He wrote: "Curiosity, Insight, Spirit, Opportunity. If you think about it, all of these names of past Mars rovers are qualities we possess as humans.
"We're always curious and seek opportunity. We have the spirit and insight to explore the Moon, Mars and beyond.
"But if rovers are to be the qualities of us as a race, we missed the most important thing: Perseverance.
"We as humans evolved as creatures who could learn to adapt to any situation, no matter how harsh. We are a species of explorers, and we will meet many setbacks on the way to Mars. However, we can persevere. We, not as a nation, but as humans will not give up. The human race will always persevere into the future."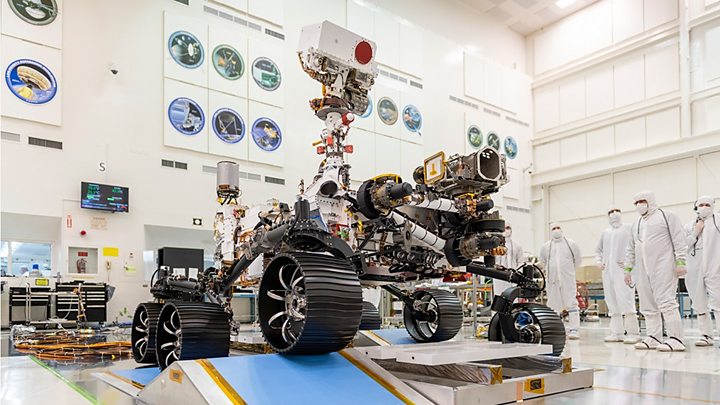 The Perseverance rover has recently arrived at Nasa's Kennedy Space Center in Florida to begin its final preparations for launch. This will take place between 17 July and 5 August. It's a seven-month cruise to the Red Planet. Engineers have targeted a touchdown for shortly after 20:30 GMT on Thursday, 18 February, 2021.
Lori Glaze, director of the agency's planetary science division, said: "The Perseverance rover is going to be collecting samples. It's the first leg of the first round trip from Earth to Mars and back. We're hoping in the 2030s that we will be bringing those samples back here to Earth. That'll be incredibly cool."
Three other missions are due to leave for Mars this year, including a rover from China and an orbiter from the United Arab Emirates.
Europe is also supposed to be sending a rover called Rosalind Franklin but there is currently significant uncertainty over whether it will be ready in time.