Louis Tomlinson, Nick Cave and Franz Ferdinand pull Russian tour dates
Louis Tomlinson and Franz Ferdinand are the latest music stars to pull gigs in Russia due to the conflict in Ukraine.
Nick Cave, Green Day and pop punk star Yungblud have also cancelled dates.
Tomlinson said his shows in Moscow, and in the Ukrainian capital Kyiv – which has been under attack from Russia – are postponed "until further notice".
"The safety of my fans is my priority and my thoughts go out to the people of Ukraine and all those suffering from this needless war," he posted online.
The singer had been due to appear at Kyiv's Stereo Plaza and Moscow's Crocus City Hall in July.
Taking similar action, Nick Cave & the Bad Seeds said on Tuesday that they too had "no choice but to cancel" their shows in Russia and Ukraine.
"We pray that this madness is brought to a close soon," they wrote.
Other acts who have scrapped performances include Iggy Pop and Bring Me the Horizon, as well as Russian rapper Oxxxymiron.
Iggy Pop's team tweeted to say their "thoughts are with the Ukrainians and all the brave people who oppose this violence and seek peace".
Bring Me the Horizon, who performed alongside Ed Sheeran at the Brit Awards recently, announced they have now cancelled gigs in Russia, Ukraine and nearby Belarus.
While announcing the cancellation of their summer gigs in Moscow and St Petersburg, Franz Ferdinand noted their love of Russian culture but condemned the state's attack on its neighbour.
"We love Russia," they wrote. "This great country has inspired our band through its art and literature and since we first played there seventeen years ago, we have built a rich and deep relationship with our Russian fans.
"Since Thursday morning, we have spoken to many of our friends in Russia via social media and have encountered unanimous opposition to this violence and solidarity with our Ukrainian friends," they added.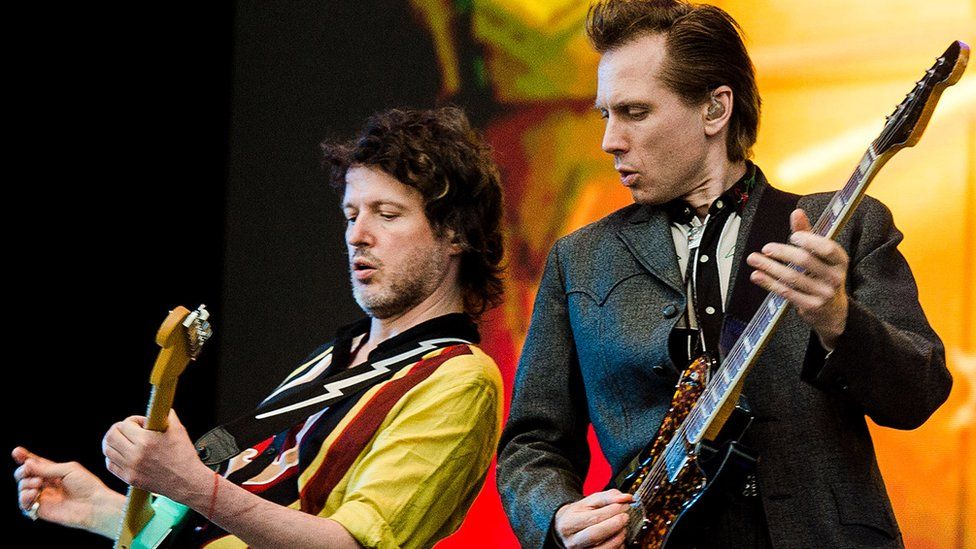 "We know you see the madness of your country's leadership. We know you do not want war. We do not want war."
The Glasgow act went on to say they looked forward to the day they could return "in a time of peace".
Also on Tuesday, the Cannes Film Festival said Russian delegations will not be welcome at this year's event in May due to the invasion of Ukraine.
"The Cannes Festival wishes to express all its support to the Ukrainian people," its team said in a statement.
"We are adding our voice to those who oppose this unacceptable situation and denounce the attitude of Russia and its leaders.
"It has been decided – unless the war of aggression ceases under conditions that satisfy the Ukrainian people – to not welcome official delegations from Russia or to accept the slightest presence linked to the Russian government."
And on Monday, the Russian State Ballet of Siberia cancelled its remaining UK tour dates "due to the current shocking circumstances unfolding in Ukraine".
Theatres in Bristol, Wolverhampton, Northampton, Edinburgh, Bournemouth, Southend and Peterborough had already cancelled visits by the ballet company.