LATEST NEWSWATCH FULL EPISODESYEAR-END SALESKARDASHIANSPHOTOSTVROYALSPODCASTS2019 IN REVIEW US Lucas Grabeel Talks "Surreal" Legacy of High School Musical As He Returns to Cameo in the Series
LATEST NEWSWATCH FULL EPISODESYEAR-END SALESKARDASHIANSPHOTOSTVROYALSPODCASTS2019 IN REVIEW US Lucas Grabeel Talks "Surreal" Legacy of High School Musical As He Returns to Cameo in the Series
Ryan Evans is heading back to East High, in a way.

Lucas Grabeel is guest starring in the newest episode of High School Musical: The Musical: The Series, but he's not there to sing "Bop to the Top," or even to step back into the shoes of Sharpay's fashionable brother from the movies. He's actually playing himself, in a dream sequence from the brain of Miss Jenn (Kate Reinders), who's having a bit of a panic attack as her production of High School Musical gets closer and closer to opening and she's faced with painful memories of her past, as a dancer in the movie whose one line got cut.

In a phone interview with E! News, Grabeel says he knew the show was in development for a while, and he was thrilled when he heard the somewhat unexpected concept.
"It was so great to hear such an original idea and not something like, oh, we're going to get someone who looks like me, and someone who looks like [Zac Efron], and someone who looks like [Vanessa Hudgens] and then try to recreate what we did a long time ago," Grabeel says. "So I was really happy with that because it's so creative."

Grabeel says he sat down with series creator Tim Federle and was impressed by Federle's hopes to "maintain some sort of integrity, and throw back and honor the original movies, and also understand the way the world has changed, entertainment has changed, children have changed."

"He wanted to create something both for the fans of High School Musical and the kids today, so everyone could sit down and watch it together," he explains. Plus there's the other, most unexpected aspect.

"When he told me it was a mockumentary, I was like, OK, Christopher Guest is my all time favorite director, and Waiting for Guffman is my favorite movie of all time, so this is hilarious and amazing."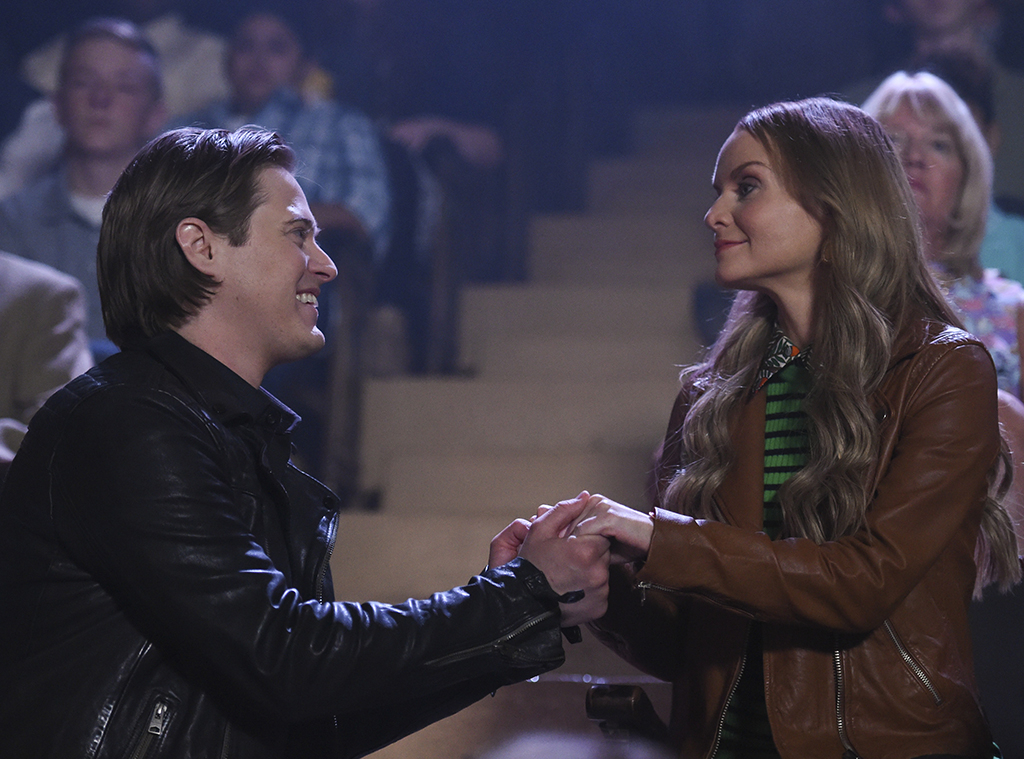 Grabeel's big cameo musical number comes in the form of a dream sequence, which fully does not work in a mockumentary-style show, but does somehow completely work within the world of High School Musical: The Musical: The Series.

"[Federle] said, oh it's a mockumentary fake reality show kind of thing, but there's a dream sequence. I'm like oh, the documentary crew just happens to morph inside the brain of Miss Jenn," Grabeel recalled. "This is where the Disney part takes over, and the wonderment and the fantasy…there are no rules. It's just so Disney and I love that. High School Musical did have—it didn't have real magic, but it had that quality to it, so intrinsically Disney. So I loved that, that's it just like no, we're just gonna go into a dream sequence."
The beauty of High School Musical: The Musical: The Series is that it's a send-up and performance of High School Musical, but set in our world, the same world where those three Disney Channel movies became legendary. So when Grabeel gets mentioned in the show, along with his costars, it's about him as an actor, not about his character, and about the legacy of the movies as movies.

"It's very surreal," Grabeel says. "It's very strange watching a TV show where people are talking about us. That was definitely a strange feeling, and even when I first came and talked to the creative team about my involvement, I didn't know what they were going to ask me to do, and when they were like, you're not going to be playing Ryan, you're going to be playing Lucas, it took me a minute to wrap my head around that and what that was all going to feel like."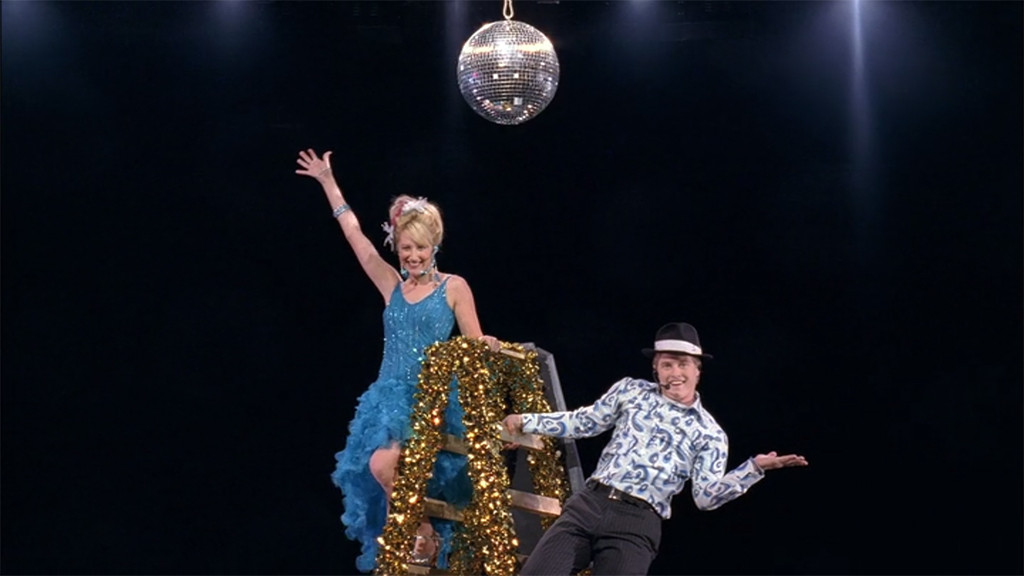 "It's been a journey, you know. Like when High School Musical first came out and was very obviously a huge success, there were lots of people, screaming fans, mobbed in certain public settings. Like I didn't really go to malls very much. But over time that kind of changed, but people were still…fans still come up to me every day and ask me the same questions that they've been asking for years—What's Zac like? How was it filming?—so to kind of see that reality put on the screen and have it shared with everyone from that perspective is like a really…I can't describe it in any other way than surreal. It's such a strange thing that High School Musical has continued to not only stay a prevalent part of my life, but constantly evolve as well. It hasn't necessarily gone away in all aspects, it just kind of changes, and I have new generations of kids and families and people of all ages coming up to me and talking to me about it, and it's just never going to not be weird."
Grabeel says he was welcomed onto set with open arms, partly from a crew that remained somewhat the same from the days of filming High School Musical, and from a cast who just wanted to do right by the original movies.

"We kind of talked about how crazy it was that this was happening, and they were very adamant to share that they really didn't want to do anything that the six of us, or anyone from the original creative team, would look down on," Grabeel says. "They were like, we really want to hold the integrity and do everything that we can to honor what you guys did, but lift it and change it into a new thing. That was just like very apparent. The day I walked in on set, one of the girls was singing 'Bop to the Top.' Literally like I walked on set and that's the scene they were shooting, and she does this a capella, soulful version of 'Bop to the Top' and my mouth just dropped, and I was like wow, this is something else. This is not what I ever expected the continuation of High School Musical to be."
Grabeel says he particularly loved watching the cast perform, both from the perspective of having done this once, and of just someone watching some talented kids create something new.

"There's a split. One half of me saw, oh, I can see so and so in that dancer, and I can see so and so in that actor, and that mirrored the old first time shooting, being on set of the first High School Musical, and watching everybody interact, and everyone being children," he says. "But then there's another part of me that saw this as something totally new and different, and really exciting to just watch them kind of figure it out. They don't need me or anyone from the original cast to tell them what to do, because it's a whole new situation. They're smarter than I am in a lot of ways about what they know. I still get treated like a kid all the time, but I also feel so old when I don't know some dance that some kid is referencing or some music artist…I kind of felt like a grandpa, kind of, looking from afar and being like, [old man voice] 'Oh, isn't that cool? Isn't that neat? Those kids are so good, they're so talented.'"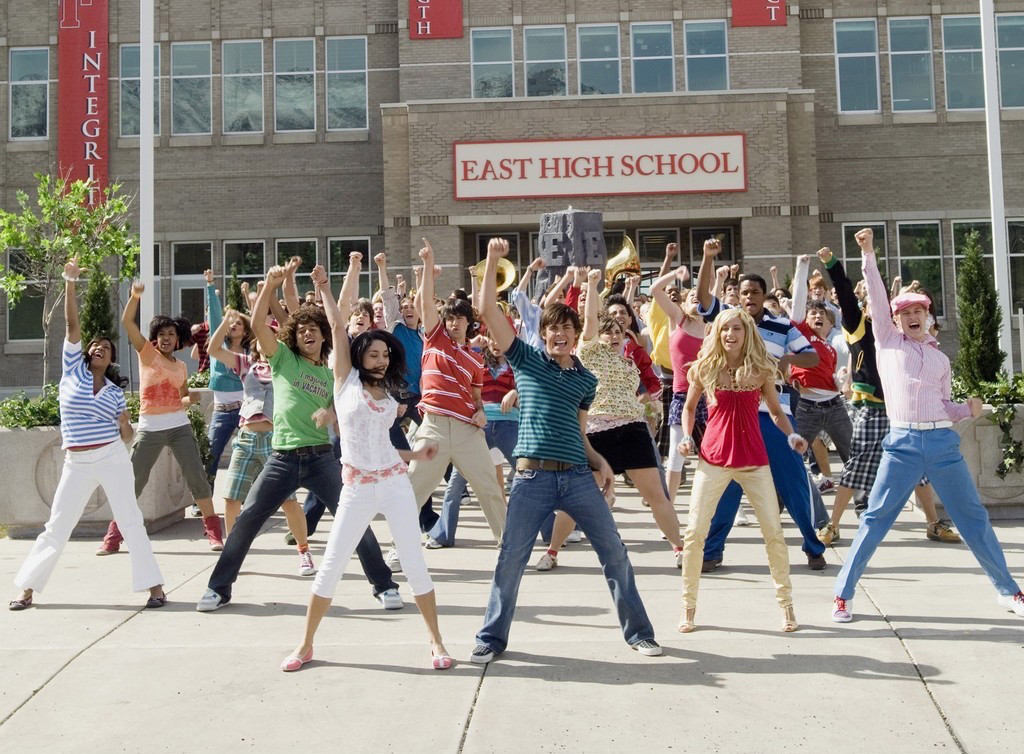 Grabeel, 35, did, in fact feel a bit like an old man when he had to jump into choreography moments after stepping on set.
"My flight was delayed and I was a little late on my first day, and I came straight from the airport to rehearsal…it came to my part, and they were like, OK, just watch the guy who's gonna run around and do everything that you're supposed to do, and he did like an entire take, and he's running across this entire auditorium and dancing and doing all these moves, and after seeing it once, they were like, OK, you ready? I did one take and I'm like [panting sounds]…I need a breather. I haven't danced in 10 years! My age definitely showed very quickly, but it helped having all these spry youngins around to keep it up and like, I'm not gonna let them show me up, I gotta do my best."
While Grabeel is the only original cast member appearing this season (as far as we know), there might be another familiar face showing up in the future.

"[Corbin Bleu] and I are really close. I don't know who told him, but I went to see him on Broadway in New York and we had dinner afterwards, and he was like 'Hey, I heard you were in the High School Musical show. I'm jealous!' I was like yeah man, it was really great. You should definitely do it if they do a season two, because it's incredible."
Zac Efron on "High School Musical" Reunion
Grabeel recommends the experience to any former East High Wildcats.

"I think anything that keeps the integrity and keeps the story rolling in a positive way..there's no reason for us to be anything but extremely supportive for it, and I think we're all on the same page when it comes to that. It's molded our careers, changed our lives, it's done so much for us, and in turn it's done a lot for a lot of kids around the world. That's something that was hard for me to kind of understand and wrap my head around for a long time, but I'm just so thankful and grateful for that whole experience, and I think anything kind of continuing on and inspiring more people in the same vein is just a great thing."

High School Musical: The Musical: The Series is streaming on Disney+, and the final performance of High School Musical begins with next week's episode, debuting January 3, and concludes with the finale on January 10.