Kevin Hart Feels Resurrected After the Old Version of Himself "Died" in the Car Crash
Kevin Hart Feels Resurrected After the Old Version of Himself "Died" in the Car Crash
It's been five months since Kevin Hart was involved in a car crash.
In the March issue of Men's Health, the 40-year-old actor and comedian reflected on how the experience changed him and how he wants to be even "better than before."
"It's a resurrection," he said in the cover story, which was released Wednesday. "That's the best way for me to put it. I feel like the other version of myself died in that moment and this new version was born to understand and to do better. Sometimes you're not going to get it when you're supposed to get it. But when it comes and that light bulb goes off, holy f–k."
The accident occurred over Labor Day weekend in 2019. The California Highway Patrol told E! News Hart's friend Jared Black was driving the star's 1970 Plymouth Barracuda when he turned from Cold Canyon Road to eastbound Mulholland Highway. Black lost control of the vehicle, causing the car to veer off the road and roll down a northern embankment. Black's fiancée, Rebecca Broxternman, and Hart were passengers.
"I remember seeing the photos of that smashed-up car," Jack Black, who starred alongside Hart in the Jumanji movies, told the publication. "My mind couldn't help but go to the worst possible scenario. I was just praying that he'd walk again."
Hart sustained "major back injuries." In fact, Men's Health reported he suffered three spinal fractures. His operating surgeon reportedly told him he would have been paralyzed had the fractures been a quarter centimeter in a certain direction.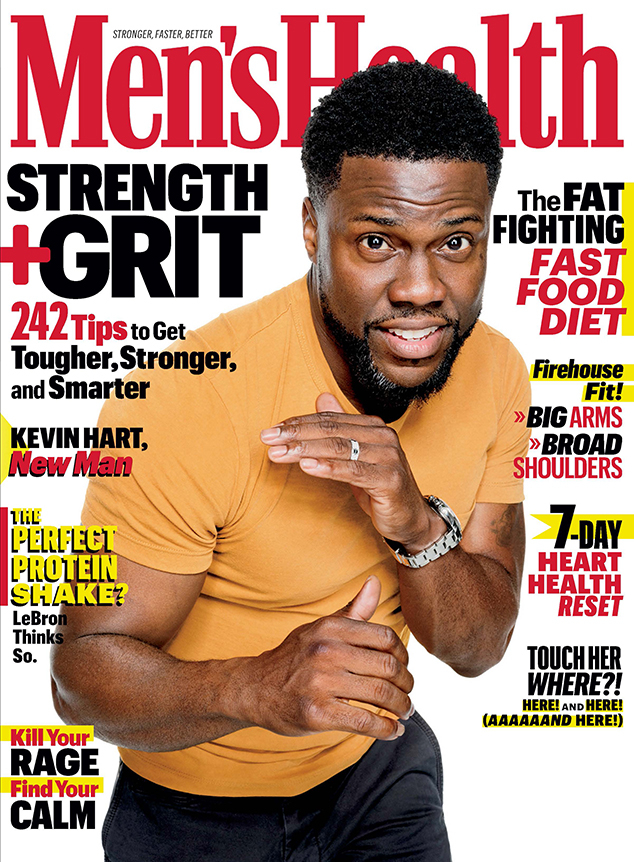 Benedict Evans for Men's Health
The Night School celeb soon started physical therapy and documented his road to recovery. 
"He didn't allow the injury to defeat him," his wife, Eniko, said. "Because of his go-getter mentality, it never was a question whether recovery was going to be challenging." 
The process was difficult. 
"You'd think that wiping my own ass should be the biggest victory, but putting on my socks was a bigger deal," he said. "I felt so hopeless not being able to do something that once was so easy."
He also explained how the incident changed him.
"It all boiled down to four walls," he said, recalling how he felt in his hospital bed. "And in the space of those four walls was my wife and my brother, my kids and my friends, all on rotation. And I got a chance to think about what matters, and it's not fame. It's not money. It's not jewelry, cars, or watches. What matters are relationships. You know, the people that were helping me get up and out of the bed." Hart pauses. "The biggest realization came from something somebody told me," he says. " 'You can't be married to your career and date your family.' That blew me the f–k away."
Dwayne "The Rock" Johnson & Kevin Hart Burn Each Other
Now, Hart is trying to slow down and put family first.
"There were times where he was here but not really here," Eniko told the magazine. "Not to say he wasn't a family man before, but he's expressed that the accident made him make up for some of the time missed because of work."
To read Hart's full interview, check out the March issue of Men's Health, on newsstands Feb. 11.