In Lebanon, coronavirus presents a political lifeline for the sectarian-based elite
In Lebanon, coronavirus presents a political lifeline for the sectarian-based elite
Branded facemasks and bars of soap plastered with the logos of political parties, bottles of disinfectant neatly laid out in shrines to prominent leaders, drones delivering party broadcasts amid the country's lockdown.
Inadequate masks that are not just useless but dangerous, because they provide a false sense of security, produced en masse by parties that are not just…

(Photo credit: @Patrick_Baz)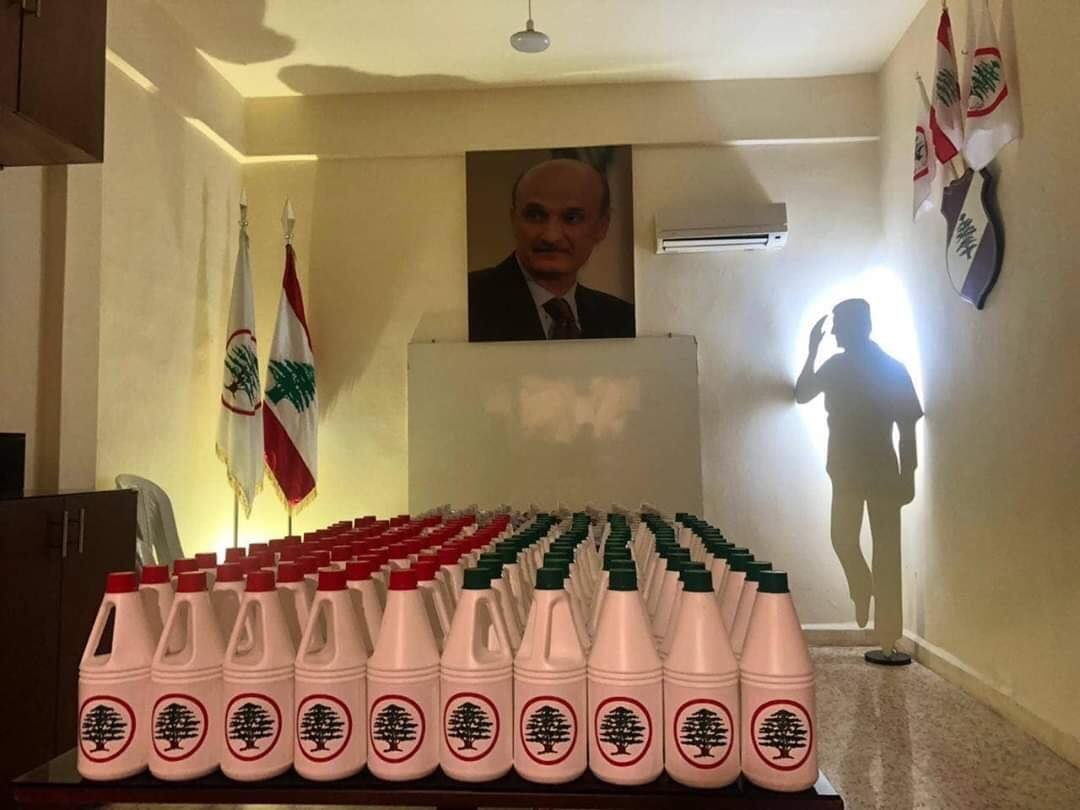 An image shows bottles of sanitizer with the Lebanese Forces political party's logo on neatly arranged in a room with LF leader Samir Geagea's portrait in the background. (Facebook, HEY Lubnan)
Competing to sterilize streets
منفذيّة #الكورة في الحزب السوري القومي الاجتماعي نفّذت حملة تعقيم شاملة في قرى وبلدات الكورةhttp://www.ssnp.com/?p=10096  #كورونا #كورونا_لبنان #ssnp #codiv19

منفذيّة الكورة نفّذت حملة تعقيم شاملة في قرى وبلدات الكورة

أطلقت منفذية الكورة في الحزب السوري القومي الاجتماعي يوم السبت 21 آذار 2020 حملة تعقيم واسعة النطاق تشمل مختلف بلدات الكورة (الأرصفة والطرقات العامة، الساحات العامة وأماكن التجمّعات، دور العبادة وا…

ssnp.com
Hezbollah's coronavirus campaign dwarfs political rivals
Hezbollah's Islamic Health Unit out disinfecting #Beirut's southern suburbs today (not my video but shared with owner permission). Other municipalities doing similarly in #Lebanon, but not sure what they're spraying & if this sort of campaign effective against #coronavirus ?