How Property Brothers' Drew Scott and Linda Phan Built Their Forever Romance
How Property Brothers' Drew Scott and Linda Phan Built Their Forever Romance
The move was bold.

But, to be fair, Property Brothers' Drew Scott and his twin brother Jonathan Scott didn't build their estimated $20 million empire by using an abundance of caution.

So when Linda Phan, the woman who caught his eye at a fashion show, tried to call it a night after sushi and hot chocolate he made a play to keep the evening going. Recalling their first date to People, she said, "I thought, OK, I'm going to duck out and head to this party. And Drew said, 'Oh, I'll come.' And in my head I thought, I didn't really invite you, but sure."

His smooth maneuver paid off. The couple spent the remainder of that 2010 evening singing together at a karaoke party. Or as Phan put it, "Longest first date ever."
A fortuitous sign, perhaps for the longevity of their relationship, now reaching the decade mark.

Though the HGTV personality says he "knew instantly" he wanted to make 35-year-old Phan his bride, he played the long game, taking some six years to put together his elaborately planned proposal.

And two years ago, the home design power couple (Phan has long since signed on as Scott Brothers Entertainment's creative director) sealed their forever in front of 300 guests, the flower-filled Italian ceremony Scott dubbed "magical" capping off days of events. "There was never a thought of doing anything else for both of us," the 42-year-old told People of scheduling cooking classes, and bicycle tours and an Apulian style welcome party leading up to the big day. "A whole week to hang out on a beach, enjoy each others' company: that sounded like the perfect wedding to us."
It's proven to be the start of a fairytale union. "I would freeze time but I wouldn't want to miss out on every new moment with you," Phan wrote to her groom May 4, the day they've chosen to acknowledge as their anniversary, reflecting on their perfect wedding.

Hard same on his part. "Every day I count my lucky stars that you chose me," he said in his own anniversary post. "Every love story has its own beauty. But I have to admit that ours is my favorite."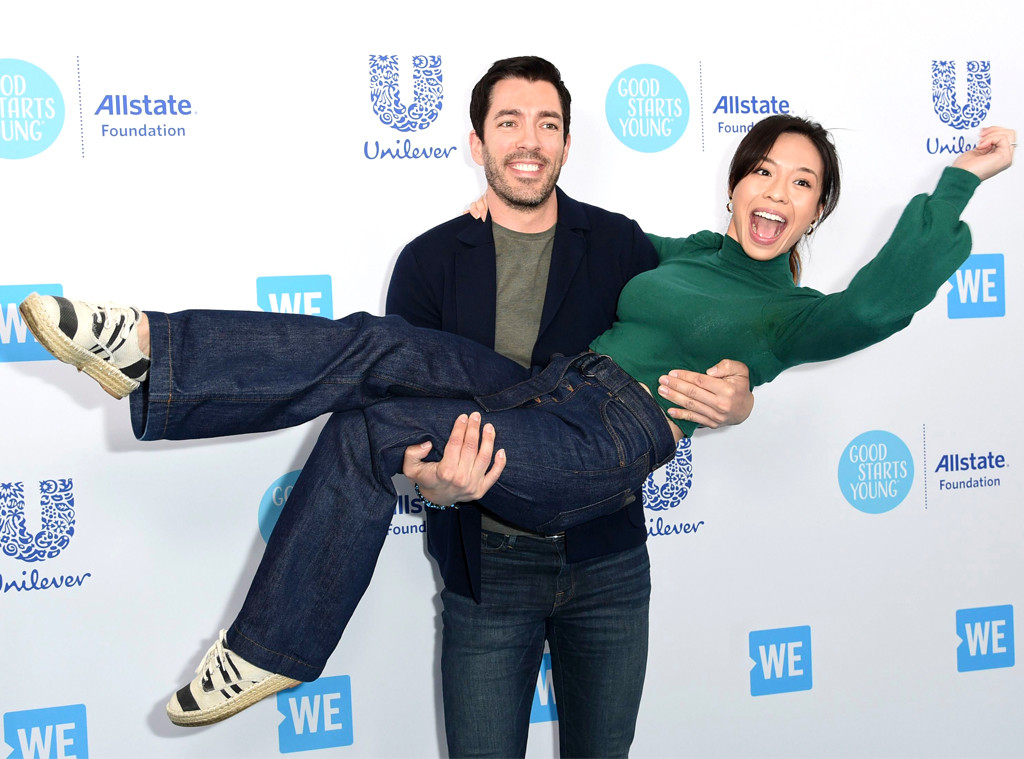 Richard Shotwell/Invision/AP/REX/Shutterstock
Drew is the type who believes in love at first sight. For him it's different than lust, it's the feeling "when the person's character just keeps you wanting more," he explained to YourTango in 2013. And it's the sensation he felt when he spotted his fellow Canadian at a fashion week event in her hometown of Toronto in 2010. Donning a big cop badge "and giving out tickets for 'bad' fashion," Drew recalled to People, the fun loving artist instantly intrigued. His initial takeaway, he told the mag: "Oh, she's attractive and she has a great personality."

Those compliments didn't roll off the tongue quite so easily when he connected with Phan backstage. Hunting for pizza and sipping on water with one of her three sisters, she was bemused, she told People when "Drew came up to me and said, 'Hey, where'd you get that water?" Groaned Drew, "I was so smooth."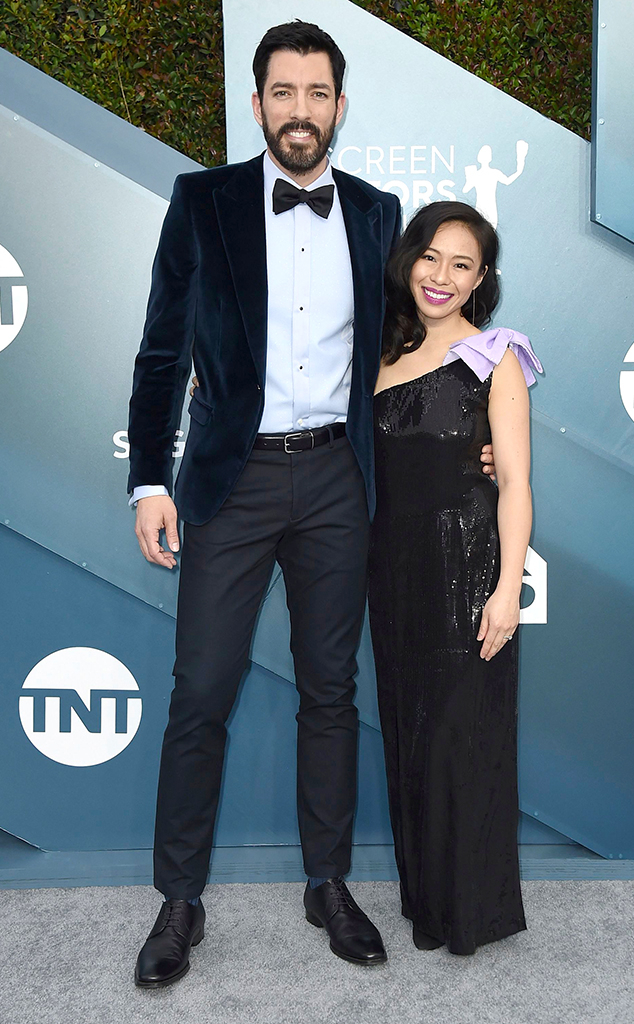 Shutterstock
He refined his charms in time for that fateful first date. At the party, he impressed Phan, who has said Disney songs are her go-to in karaoke situations, with his first choice: The Lonely Island's "I'm on a Boat". As Phan recalled, she was smitten the moment he picked up the microphone. Asked to pinpoint it, she revealed in a 2019 Instagram, that "was probably the first time I fell in love with you. The first of many times."

For Scott the romance was solidified not long after, when he brought Phan to meet his twin brother Jonathan and their high school pal Pedro. As he explained to The New York Times, his trio of boys were so close, they were often finishing each other's jokes.

And when Pedro keyed up the setup to a quip, it was Phan who tossed out the punchline, causing Scott to whisper in Jonathan's ear that this woman was a keeper. "In that one moment, I knew we were on the same parallel," he said. "When you're in love, you mesh that way."
Hamilton Pytluk/Universal Studios Hollywood
Just as his personal life was clicking into place, Drew's career was beginning its meteoric ascent. The aspiring actor and brother Jonathan had been in business together since age 7, when they designed nylon-wrapped, rose-studded hangers. "We would go door-to-door in our neighborhood, and people thought it was cute," Jonathan told Parade. Then one neighbor who owned a chain of American paraphernalia stores in Japan started buying them by the thousands.

Their inaugural fixer-upper series Property Brothers made its debut on Canadian cable in 2010, and got picked up by HGTV the following year. And as their empire expanded—their debut series now airs in more than 150 countries and they've produced several spinoffs not to mention a lengthy list of merchandise that includes everything from home décor to original songs—Phan joined the family business.

While she admits some doubted her choice to live and work with her boyfriend, "There's an ease to it," she told People. "You wake up and you go to work. It's nice and really convenient to be able to have meetings with the people you live with."
It helps that her business style meshes well with Drew, who often pushes through long days of filming. "My girlfriend and I are both workaholics," he told YourTango. "We love what we do and that we can work side by side."

Though at first glance, the 6-foot-4 HGTV personality and his 5-foot-2 bride-to-be may appear mismatched, the Canadians are on the same page about everything from a love of food (Drew digs ice cream; Phan favors pizza with goat cheese, olives, spinach, tomatoes, banana peppers and pineapple) to the importance of philanthropy. (A through line of their vows, they skipped a registry in favor of working with organization Me to We to raise funds to provide water to 50,000 people, a nod to his initial pickup line, and then spent their honeymoon months later doing charity work in Ecuador.)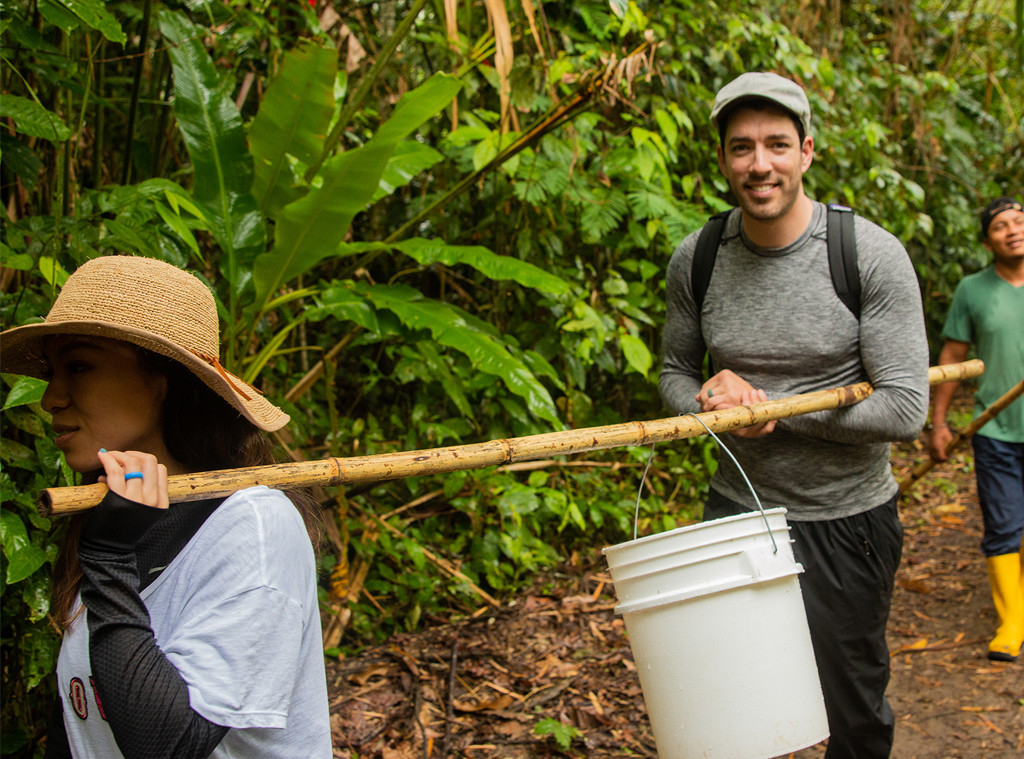 Sara Brown (@PetraAlexandra)
Still, says Drew, he's careful to never stop renovating their union. "It sounds cliché, but communication is the number one way to keep a relationship solid," he says. "You can't just assume that everything is perfect—like anything you are passionate about, ask questions, express your own feelings and take a genuine interest in making the relationship the best it can be."

He took his own advice when putting together his December 2016 proposal. Spending weeks carefully crafting each step, he kept the meticulous details out of his emails and toted the 1.2-carat round-cut solitaire around with him so Phan wouldn't stumble upon either. As he told People, "I've had to be as stealthy as a ninja to pull this off."
Finally, he unfurled his plan during a dinner at Toronto restaurant Piano Piano. He arranged for the Italian eatery to play a version of Train's "Marry Me" that he had recorded himself, the cue for staffers to carry out a custom cake. A play on one of Phan's favorite books, Dr. Seuss' Oh the Places You'll Go, it read "Oh the Places We'll Go," a signal of the adventures that lie ahead. After she accepted, he led her to an engagement party packed with both sets of their parents, his two brothers and a group of friends.

Of course, that was nothing compared to the nuptials that followed, the destination affair bringing in friends and family from United States, Canada, Latin America and Scotland. "I love the fact that we get to hang out with family and friends, that's the big thing for us," he told E! News mere days before the affair.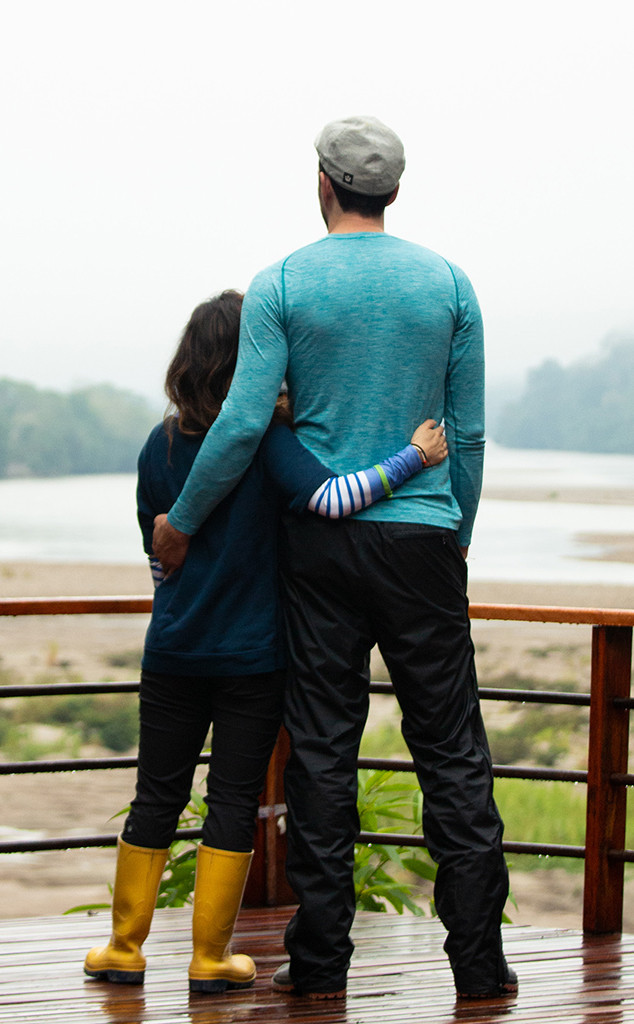 Sara Brown (@PetraAlexandra)
And the importance of family remains front of mind as the couple, now living in their renovated five-bedroom L.A. dream home, enter their third year of marriage.

Last January, it was a subtle mention on fellow HGTV darling Joanna Gaines' Instagram page, Drew responding to the mom of five's remark that she needed to get the next size up for then 6-month-old son Crew. "We'll be having kids soon," he commented, "so I'll hit you up for hand me downs."

With a burgeoning empire—their new lifestyle magazine Reveal, is the latest piece in a puzzle that includes furniture, decor lines, an app, multiple books and, of course, television series—it's been tricky to follow through on that vow, but, "I don't want to keep delaying," he told People this January. "I'm not saying we have one ready to go, but hopefully soon! I think very soon you'll see us announcing to the world."

Because while he thinks he'll be a pretty good dad, he knows "Linda is going to be an amazing mom."

After all, he's had a good eye from the start.