How Joe Biden's Grandchildren Have Leaned on Malia and Sasha Obama
The Obama sisters are sharing their White House knowledge.
During the Wednesday, Jan. 20 episode of the Today show, President-elect Joe Biden's granddaughters— Naomi, 27; Finnegan, 22; Maisy, 20; and Natalie, 16—revealed how close they've gotten to former first daughters Malia Obama, 22, and Sasha Obama, 19.
"Maisy and I and Natalie and Naomi have had the privilege of being able to see two of our friends navigate eight [years] of what was really difficult and they did so, so beautifully," Finnegan shared with host Jenna Bush Hager, who actually gave the Obama daughters the grand tour after her father former President George W. Bush's term. "And they came out so grounded and humble, and they're so smart and driven, so I think we can only take advice from them."
Maisy added, "You can only hope to do as well as they did because they just did it so beautifully."
Naomi, Finnegan and Maisy are the daughters of Hunter Biden, 50, and Natalie is the daughter of the late Beau Biden, who passed away in May 2015 after a long battle with brain cancer.
Although Malia and Sasha have both lowkey since leaving the White House and attending college, they've still been great resources for the Biden girls.
Finnegan noted, "But they've been so nice offering advice to us and support."
Later in the interview, Maisy shared a sweet story of former President Barack Obama coaching her and Sasha's youth basketball team in Washington, D.C.
"There's a lot of teams that were like, 'This is unfair, they can't have the president be their coach,'" she said with a laugh, "but I mean, we won." Maisy also noted how big sports is in the Biden family and how supportive her grandfather is of all of his grandchildren's extracurricular activities.
"He came to, like, every single one of my soccer games, lacrosse games, basketball games," Maisy said. "And it was always funny seeing him show up when I was like, 'I think I just saw you on TV about 30 minutes ago. How did you just end up here?' And he was like, 'Don't worry, I knew it was a big game today.'" Talk about being a super granddad.
Of course, this wasn't the only way Joe showed up for his grandkids. In fact, Maisy explained to Jenna how the president-elect stays in touch with all of them.
"That's something that I feel like some people don't believe when we say that he literally calls, not just, like, one of us every few days," Maisy said. "He calls me, then calls Naomi, then he calls Finn, then he calls Natalie, then he calls Ashley, and then he calls little Hunter."
In regards to running for the president, Naomi jumped in, recalling a potentially exploitative campaign exposing their family.
"We just kind of all agreed that we had to sit my grandparents down face-to-face and tell them not only that we want them to run, but that we'll be OK if they do run," she said. "I think it was actually little Hunter who showed him something on his phone, some, like, tabloid story about the family, but then basically said to him we know about these sort of things, we know it's going to be bad, but we have each other, and we know the truth, and we will be OK."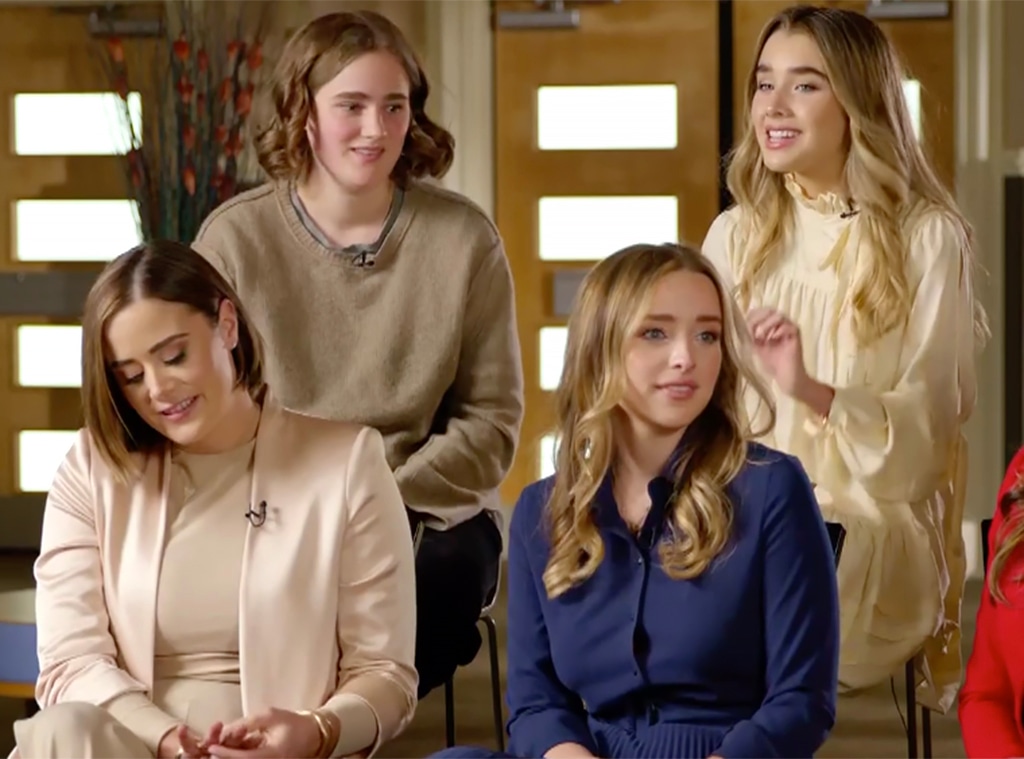 Today
She also added, "I think he came out of that meeting feeling a little bit more comforted." And although she expressed being excited for the new journey ahead, she admitted, with a laugh, "I'm really excited that they'll be just a few miles away from my apartment, so I can go steal some free food from the kitchen."