Halsey Reveals She Wrote Her First Love Song For Ex-Boyfriend Yungblud
Halsey Reveals She Wrote Her First Love Song For Ex-Boyfriend Yungblud
Halsey is leaving it all on the table.The 25-year-old star recently opened up about her previous relationship with British musician, Yungblud (whose real name is Dominic Richard Harrison). For a refresher, the two dated for nearly a year before seemingly calling it quits in the fall of 2019.

A source at the time told E! News their romance fizzled out back in September, and so they decide to go their separate ways. And while Halsey addressed their breakup briefly on social media, she recently shared some details about their relationship.

Chatting with Zane Lowe on New Music Daily on Apple Music's Beats 1 podcast, the "Without Me" singer revealed how her ex-boyfriend influenced her songs.

"I was dating Dom. Not Fike. Other Dom," she began sharing. "I was really happy. I was really happy with my life. I was thinking about the night that he and I met because I had told the story so many times."
She continued, "And every time I told it, it got better and better and better and more romantic and it wasn't raining. It wasn't raining like in the story, the streets are shining wet and I need to tell this romantic story."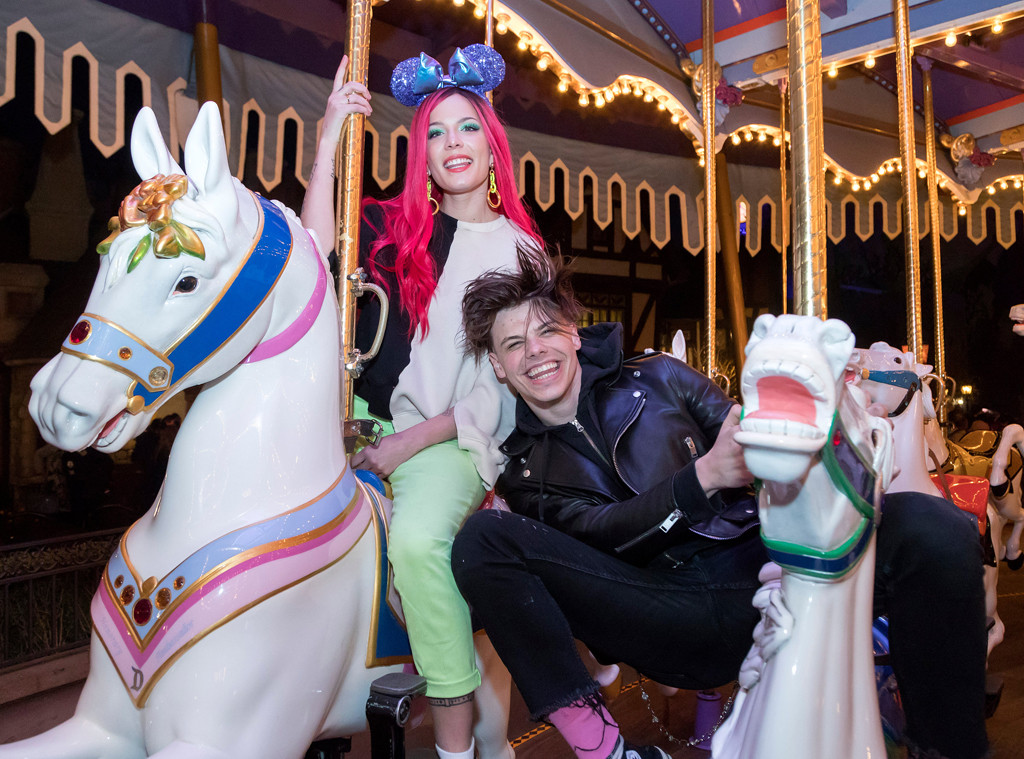 Joshua Sudock/Disneyland Resort
For her, she felt like she need to write a love song about their bond. "And I'd never written a love song before," she added. "Not one without a punchline."While Halsey and Yungblud never really addressed their split, a separate insider previously gave E! News some insight.

"It was sort of abrupt and it was Halsey's decision to end the relationship. Halsey has been very busy with her work commitments and traveling a lot recently," the source revealed at the time. "She's been very busy and focused on her career, which took more of a priority."

But despite her breakup, Halsey appears to be smitten over her beau, Evan Peters.

On Monday, she gushed over the American Horror Story alum on his birthday with a heartwarming message. "happy birthday darling," she wrote, alongside a cute photo of them kissing and smiling. "I can't imagine a world without you in it."

The pair has been dating for nearly three months now and appear to be moving things along in their relationship.
On the topic of having a positive attitude and starting fresh, Halsey told Lowe, "I definitely have had a lot of experiences that I think probably would have hardened some people or made them really jaded. And one of the probably best and worst qualities about me is that no matter what happens, I always try to see the best in people.""And I always go into every situation foolishly expecting that everybody's intentions are as pure or as genuine as my own," she continued. "And no matter how many times that proves to be untrue or I get fooled, it doesn't stop me from going into the next situation and being like, 'New person, new clean slate.'"
Now, that's a 2020 motto we can get behind!