Greenpeace loses North Sea Vorlich field legal challenge
Environmental group Greenpeace has lost its case against the UK government over a North Sea oil field permit.
Permission to drill the Vorlich site off Aberdeen was given to BP in 2018.
Greenpeace argued in Scotland's highest civil court there had been "a myriad of failures in the public consultation" and the permit did not consider the climate impacts of burning fossil fuel.
The Court of Session ruling means operations will continue at the field. Greenpeace plans to appeal.
The UK government welcomed the outcome.
It follows a two-day hearing into the case last month.
Production from the development started in November after BP was granted approval by the Oil and Gas Authority (OGA) in 2018.
Greenpeace said it was the first time an offshore oil permit had ever been challenged in court and that if it had won, the case would have had huge ramifications for other sites, such as the planned Cambo field off Shetland.
Ruth Crawford QC for Greenpeace said UK Business Secretary Kwasi Kwarteng had been "deprived" of information about the environmental impact of the development.
Ms Crawford said Greenpeace wanted proper public participation in important developments such as the Vorlich oilfield.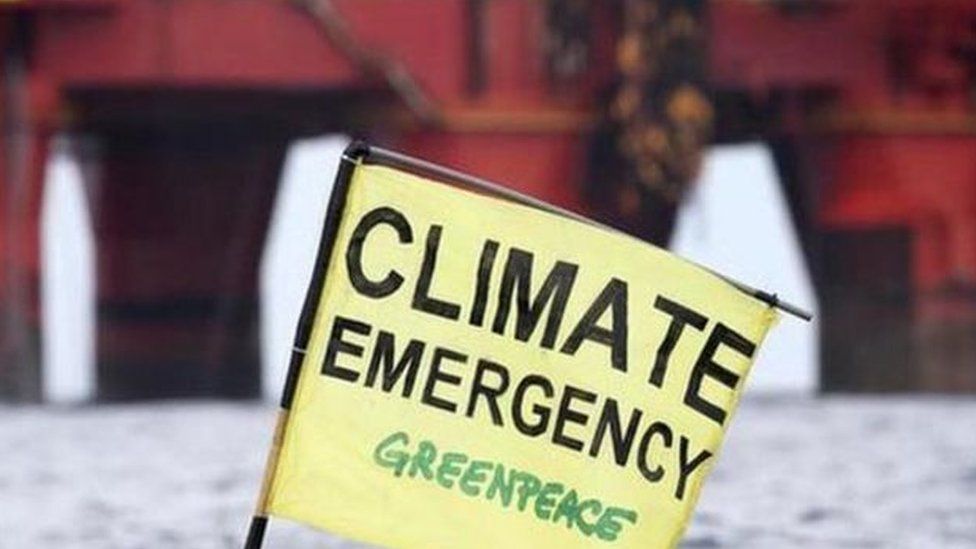 Roddy Dunlop QC, representing the UK government, said the challenges advanced by Greenpeace were "largely procedural and opportunistic".
Jim Cormack, representing oil firms BP and Ithaca, had previously told hearing that the challenge was "highly significant" and if the original decision was overturned, production from the field would have to stop until new consent could be obtained.
'Ongoing demand'
He said the works for which consent was granted had been implemented by BP and Ithaca at a cost of about £230m and the project was fully operational and in the production phase.
Three judges at the Court of Session – Lord President Lord Carloway, Lord Menzies and Lord Pentland – rejected Greenpeace's case.
The UK government said in a statement: "We welcome today's judgment which upholds the environmental decisions made by the Offshore Petroleum Regulator for Environment and Decommissioning.
"While we are working hard to drive down demand for fossil fuels, there will continue to be ongoing demand for oil and gas over the coming years as we transition to lower carbon, more secure forms of energy generated in this country."
John Sauven, Greenpeace UK executive director, said: "We will not give up the fight for the climate. Our intention is to appeal this ruling before the Supreme Court."
Ithaca said in a statement that it welcomed the decision handed down by the Court of Session to dismiss the appeal raised by Greenpeace.