Gas prices soar 26% after Russia keeps key pipeline closed
Gas prices have soared on concerns over energy supplies after Russia announced it would not reopen its main gas pipeline to Europe.
The Dutch month ahead wholesale gas price, a benchmark for Europe, was up as much as 30% in early trading on Monday.
The Nord Stream 1 pipeline had been due to reopen on Saturday after being shut for three days.
But Russia's state-owned energy firm Gazprom said it had found a leak.
Europe has accused Russia of using gas supplies to blackmail European countries because of the Ukraine conflict, which Moscow denies.
A Kremlin spokesman said on Monday: "Pumping problems arose because of sanctions imposed against our country and against a number of companies by Western states, including Germany and the UK.
"There are no other reasons that would lead to problems with pumping,"
Wholesale prices have been very volatile in recent weeks. They fell sharply last week when Germany announced that its gas storage facilities were filling up faster than expected.
Although the UK is not reliant on Nord Stream 1 for its gas, the Kremlin's decision to squeeze supplies to Europe has driven up the overall cost of wholesale gas. Prices in the UK rose as much as 35% on Monday.
The overall increase has been behind the spike in the energy bill price cap for consumers in England, Wales and Scotland.
Tory leadership hopeful Liz Truss has promised to announce a plan to deal with high energy bills if she becomes prime minister. Her rival, Rishi Sunak, has said he will target further payments aimed at the poorest.
However, UK businesses are not protected by a price cap and, last week, the British Chambers of Commerce warned firms would "close their doors this winter" if they were not given support with soaring bills.
Energy expert Bill Farren-Price told the BBC's Today programme that the "crunch moment" would come later in the year if demand is particularly high for gas and is going to exceed what can be imported.
He added that looking action on energy bills would be the top priority for the incoming prime minister.
A number of European governments have revealed plans to help businesses and consumers cope with surging energy costs. On Sunday, Germany announced a €65bn (£56.2bn) package which includes one-off payments to the most vulnerable and tax breaks to energy-intensive firms.
Over the weekend, Sweden and Finland also announced multi-billion pound packages to support energy companies.
Other European ministers have accused Russia of using energy supplies as an economic weapon against those supporting Ukraine.
Moscow has denied it is deliberately restricting exports in the run-up to winter. A Kremlin spokesman claimed that sanctions against Russia were disrupting maintenance work.
The Kremlin spokesman said: "Considering the fact that the sanctions continue to be in force, considering that they bring absolute confusion, legal, practical, to everything related to the maintenance of all units and assemblies, then for now our hopes rest on this single unit [and] that it will be somehow possible to put it in order."
State energy firm Gazprom said that an oil leak in a turbine on the Nord Stream 1 pipeline was behind the closure.
But this has been disputed by the European Union and Siemens itself, the German firm which maintains the turbine.
"Such leaks do not normally affect the operation of a turbine and can be sealed on site. It is a routine procedure within the scope of maintenance work," Siemens said in a statement.
Gazprom made the announcement on shutting the pipeline on Friday shortly after the G7 nations agreed to cap the price of Russian oil in support of Ukraine.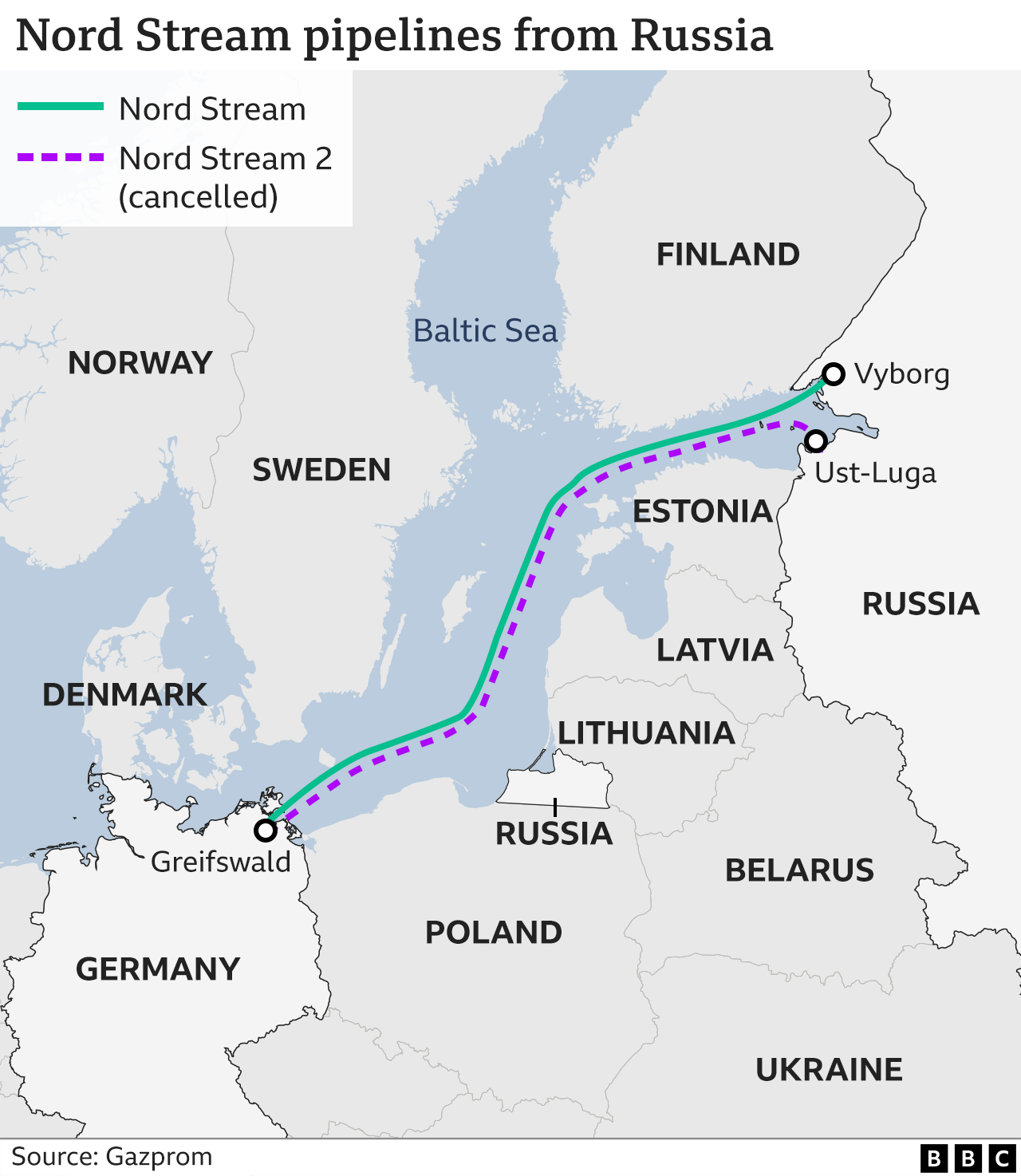 The introduction of a price cap means countries that sign up to the policy will be permitted to purchase only Russian oil and petroleum products transported via sea that are sold at or below the price cap.
But Russia says it will not export to countries that participate in the cap.
Swedish Prime Minister Magdalena Andersson said that Russia's actions could not only risk leading to a "war winter", but could potentially have a knock-on effect on businesses and its wider economy.
The Nord Stream 1 pipeline stretches from the Russian coast near St Petersburg to north-eastern Germany and can carry up to 170 million cubic metres of gas a day.
It is owned and operated by Nord Stream AG, whose majority shareholder is Gazprom.
This is not the first time since Russia's invasion of Ukraine that the pipeline has been closed.
In July, Gazprom cut off supplies completely for 10 days, citing "a maintenance break". It restarted again 10 days later, but at a much reduced level.