Don Broco: How they topped this week's chart with last year's album
Don Broco have topped this week's UK album chart – with a record they originally put out last year.
The Bedford rock band released Amazing Things digitally on 22 October 2021, but had to delay the physical release until now due to a global vinyl shortage.
They beat competition from The Weeknd to secure their first number one.
"It's incredible – something we never thought would be a possibility," singer Rob Damiani tells BBC Radio 1 Newsbeat.
"Through hard work, perseverance, and having the best fanbase in the entire world – that's the thing that made it all possible."
'Everything was going wrong for us'
The band had initially planned to release the album last summer, before pushing it back because of plastic delays across Europe, which led to manufacturing issues with the CDs and vinyl.
Global supply problems affected many artists in 2021, with Adele telling Radio 1's Greg James in October that it would take 25 weeks to get her latest album released on vinyl.
"It just felt like one thing after another," says Rob.
"Everything was going wrong for us."
By the time a new release date in October came around, the band still didn't have the physical copies.
"We knew our fans were really excited for the record – we were excited to share it with them – so we didn't want to push the album back any further, so we released it digitally".
Amazing Things was made available for downloads and streaming on 22 October 2021, but it failed to reach the Top 40, peaking at number 91.
Don Broco's previous album Technology made it to number five.
The album chart has included streaming data since 2015 – reflecting a fall in sales, and an increase in streaming numbers – but sales still count for significantly more, with 1,000 streams of a track considered to be equivalent to one album sale.
Amazing Things finished this week with almost 15,000 sales, 98% of which were physical, narrowly ahead of the Weeknd's Dawn FM (around 13,500) and Jamie Webster's Moments (just over 9,000).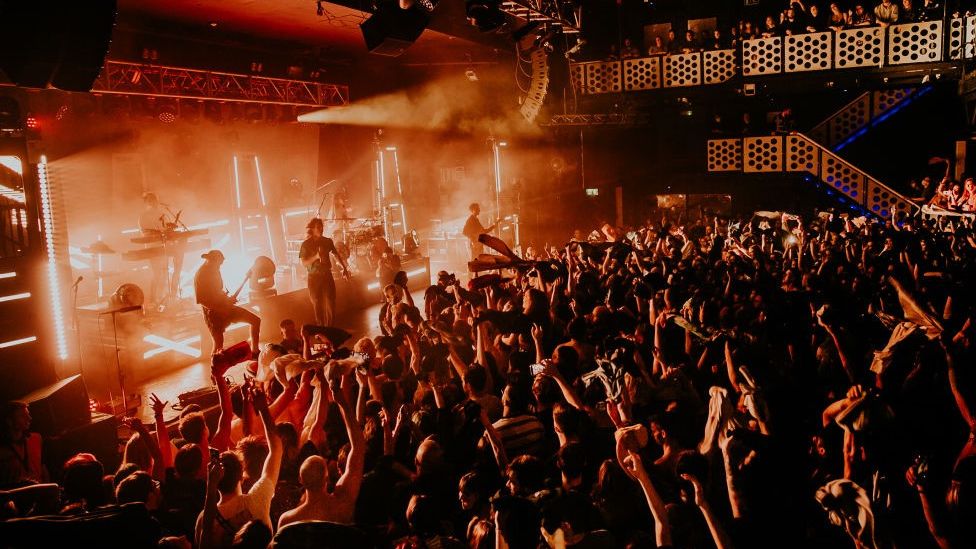 "This new release has given the album this whole new lease of life, and reminded us why we did it in the first place," says Rob.
Many of the band's dedicated fans have bought multiple copies to support them, and it's not just CD and vinyl sales that has propelled Don Broco to the top.
The band have also capitalised on the increasing popularity of cassettes, by selling sets of tapes.
"There's something so cute and compact about them," says Rob.
"I know a lot of people probably have never even heard a cassette – and I definitely don't have [a player] in my house anymore – but for us, it was almost like a childhood dream to be able to do that option."
Although they represent a tiny fraction of the music market, sales of cassettes were up by around 20% in 2021 – the format's most successful year since 2003.
Rob believes that while streaming is "super important", the album's success shows there is a "very passionate fanbase there who are willing to put their money where their mouth is and grab a copy of the record."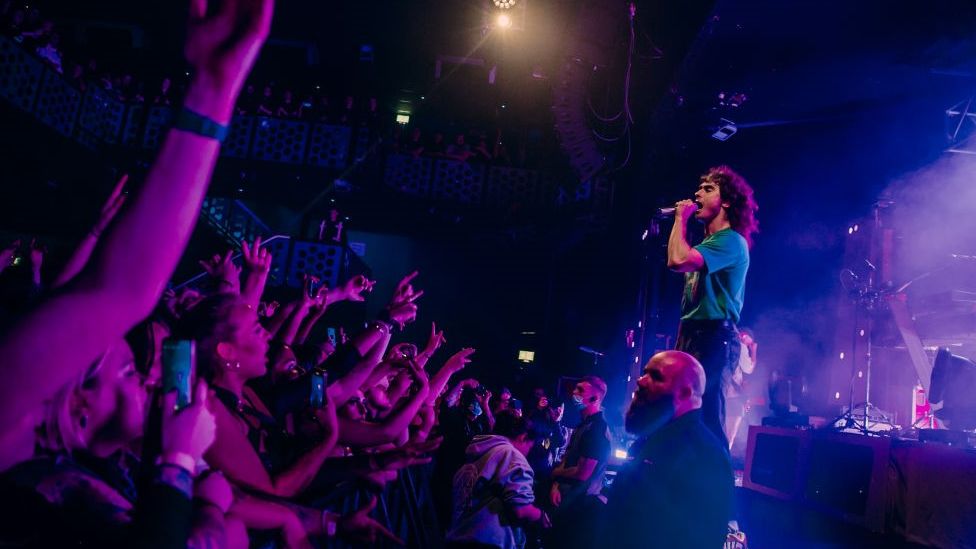 "It's just so nice having a physical product in your hand – something tangible."
It also comes at a time when there is a spotlight on music streaming services and the way they pay artists, with calls for changes to the system and an upcoming inquiry into them.
"It's super important – that connection with your fans and them being aware that [buying merchandise] is maybe the only way they can really support you," says Rob.
"As a band, it's harder and harder to make money these days – so picking up a physical record really means a lot".
Don Broco are now preparing for a series of local live shows to celebrate, before a US tour.
They're hoping Amazing Things could be the start of even bigger things.
"The goalposts keep moving," says Rob.
"Reading and Leeds Is our favourite festival in the world – so if one day we were considered to be a headline act there, it would make all our dreams come true."
But for now, "we keep pinching ourselves – just being able to play our music to people who want to see it around the world is just the best thing ever".