Covid: Government warns Covid test firms over misleading prices
More than 80 private Covid travel test providers listed on the government's website will be issued two-strike warnings over misleading prices, Health Secretary Sajid Javid has announced.
A further 57 firms will be removed from the website on Monday, because they either no longer exist or do not actually provide the relevant tests.
The health secretary said the move was to clamp down on "cowboy behaviour".
The government will also introduce spot checks on the test providers.
The UK government has made it a condition of international travel to England that tests before travel, and on your arrival in the UK are mandatory.
The number of tests that are needed is dependent on your arrival from either a green or amber country or your vaccination status. Arrivals from red countries must still use quarantine hotel facilities.
The government website has a list of private companies that offer such tests – but a recent review by the Department of Health found the prices displayed were lower on the Gov.UK site than the actual amount they cost.
Some of the most common complaints from travellers also mention tests listed on the government's list of providers that do not exist at the price advertised, whilst others allege poor service.
Mr Javid said: "It is absolutely unacceptable for any private testing company to be taking advantage of holidaymakers and today's action clamps down on this cowboy behaviour.
"57 firms will be removed from the Gov.UK list and a further 82 will be given a two-strike warning – if they advertise misleading prices ever again, they're off."
He added that the spot checks being introduced were to ensure that all private providers "follow the rules" and meet the government's "high standards of transparency".
'We haven't met anyone who's had a £20 test'
But consumer group Which? said that it had warned the government about the problems with private travel test providers six months ago.
"It's welcome news that the government is finally taking responsibility for its list of test providers and carrying out an audit, but it's six months late," Rory Boland, travel editor at consumer association Which?, told the BBC.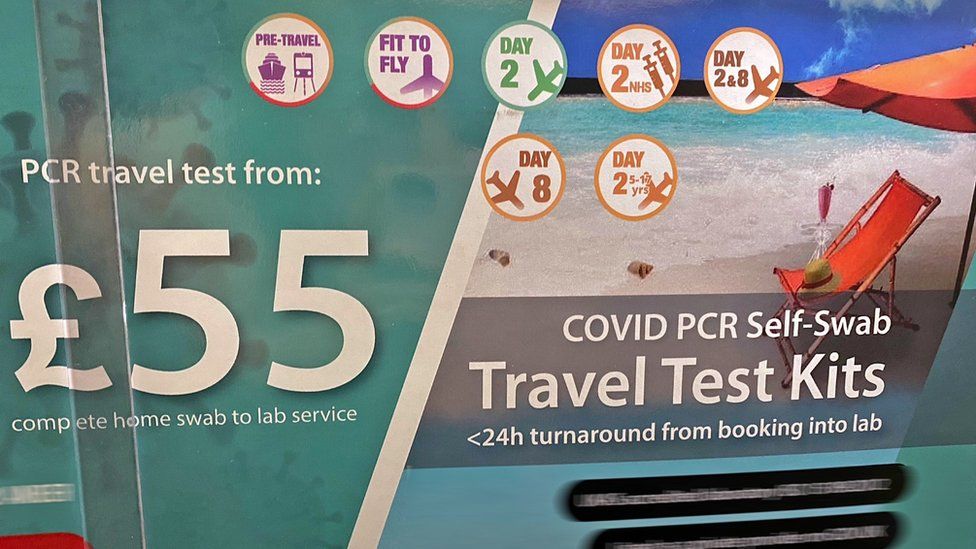 "There should not have been providers listed on the Gov.UK website that don't exist. We found this in our first investigation in April, when providers were telling us that the system would collapse if larger numbers of people were travelling."
He added that Which? had repeatedly reported some Covid test providers to the government: "In our second investigation, we looked at the 10 cheapest providers and we found that none of the tests listed below £80, were actually attainable for less than that.
"We submitted the names to the government and they removed three of those 10 names in June."
While the government has not named the providers that it intends to remove from the Gov.UK website, or the firms that will be receiving warnings, Which? says it is certain that the test providers offering Covid tests that start from £20 will be targeted.
Mr Boland said: "You can't get the £20 tests. We haven't met anyone who's had a £20 test. Generally the price you pay, at the cheaper end, is £40-£50.
"A lot of these firms offering £20 tests require you to drive to somewhere in England on a specific day, such as in Middlesbrough. When you try to book the test online, the booking calendar is almost always full."
In April, Transport Secretary Grant Shapps told MPs that some travel tests had fallen to below £45, saying he was "very anxious" to reduce the cost of the tests for consumers.
Last week, the government accused the Competition and Markets Authority of not doing enough to protect consumers, saying that PCR testing for travel had become a "predictable Covid rip-off".
In response, the business and competition regulator told the BBC it warned government officials that consumers could face risks from the fast-growing travel testing industry in April and May.