Covid-19: Facebook rejects businessman's jab advert
Facebook has apologised for rejecting a businessman's advert designed to encourage black and Asian people to have the Covid-19 vaccine.
Wilfred Emmanuel-Jones wanted to raise awareness about the importance of being vaccinated and shared a picture of him receiving the jab.
But when he tried to promote the post on Facebook, it was rejected because it said the content was "shocking".
Facebook said it had made a mistake and the advert had since been approved.
"Our team processes millions of posts and images daily and occasionally we make a mistake. We have restored the ad and apologise to Mr Wilfred Emmanuel-Jones for any inconvenience caused," said a spokesman.
Mr Emmanuel-Jones runs The Black Farmer, a firm selling meats and deli products from his Devon farm.
He had his vaccination last week and posted the picture to his personal Facebook page. But he said he wanted to "do something more to raise awareness" and reach a wider audience.
"I have a high profile within the black community and there is a real issue with black and Asian people getting the vaccines, so I thought that there needs to be a counter to the anti-vax brigade," he told the BBC.
Mr Emmanuel-Jones decided to use a boosted post, which is the simplest way to advertise on Facebook. Such posts differ from Facebook adverts because they are not created in its advertising management tool Ads Manager, and do not have all the same customisation features.
To boost a post, a person has to decide three things:
the target audience
the budget
how long the ad will run for
The resulting post, which is labelled as an advert when displayed in the news feed, must be approved by Facebook before it can run.
Mr Emmanuel-Jones posted his vaccination picture on The Black Farmer Facebook business page with the caption: "Just had my first vaccine everyone! The organisation is amazing. This is the #NHS at its best!"
He included the hashtags #theblackfarmer #stayhome #protecttheNHS #savelives
But the advert was not approved and he received a message of explanation, which said adverts "must not contain shocking, sensational, inflammatory or excessively violent content".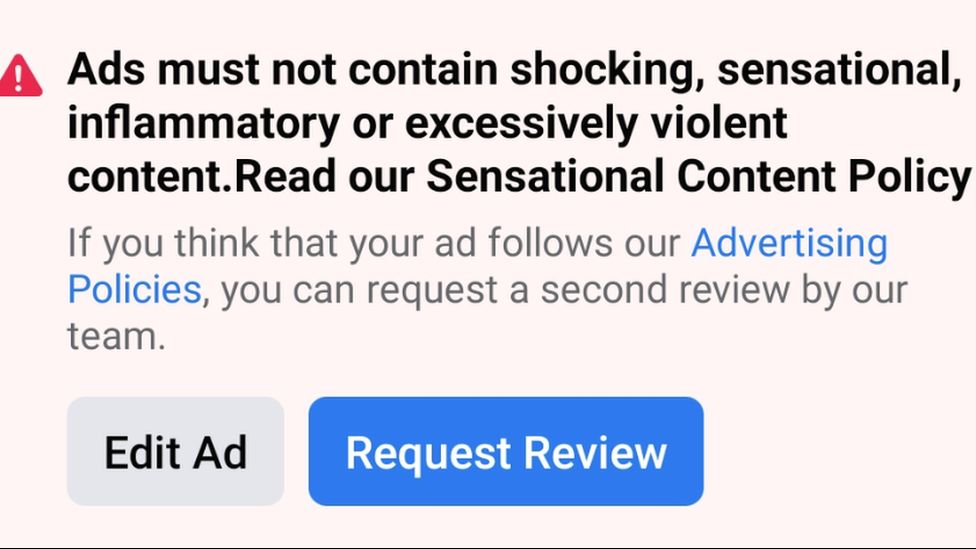 However, his post was accepted on Instagram.
Previously, Mr Emmanuel-Jones had created a similar post about Black History Month without any issues, as well as running more traditional ads for his business.
One advert showing raw sausages in a pan was rejected, which he thinks may have been misinterpreted by Facebook's systems.
He revealed the problems with his vaccination advert on the BBC's Question Time, where he was appearing as a guest.
Mr Emmanuel-Jones said the process had been frustrating.
"However Facebook is sorting out content, it is making some fundamental mistakes," he said.