Council policies often inconsistent with climate goals
More than a third of English councils support policies that could increase carbon emissions despite having declared a "climate emergency", BBC research suggests.
Road building and airport expansion are among examples provided by 45 out of 121 questionnaire respondents who say they have passed climate motions.
Environmentalists say the findings reveal "inconsistencies" in approach.
Local leaders insist they are taking action but need more funding.
Between March and June the BBC surveyed all 149 top tier councils in England, of which 136 responded.
Almost nine in 10 councils (121 out of 136 respondents, 89%) have declared a "climate emergency"
Of those, more than one in three councils (45 out of 121 respondents, 37%) said they supported at least one policy that could increase carbon emissions, such as new road building or airport expansion
About two-thirds of councils (91 out of 136 respondents, 67%) said the pandemic had affected their plans to tackle climate change.
The government has committed to cutting greenhouse gases to almost zero by 2050 – this target is known as net zero.
This means reducing emissions as far as possible, then balancing out any remaining releases by, for example, tree planting. The similar term of carbon neutrality refers to doing this for CO2 emissions rather than all greenhouse gases.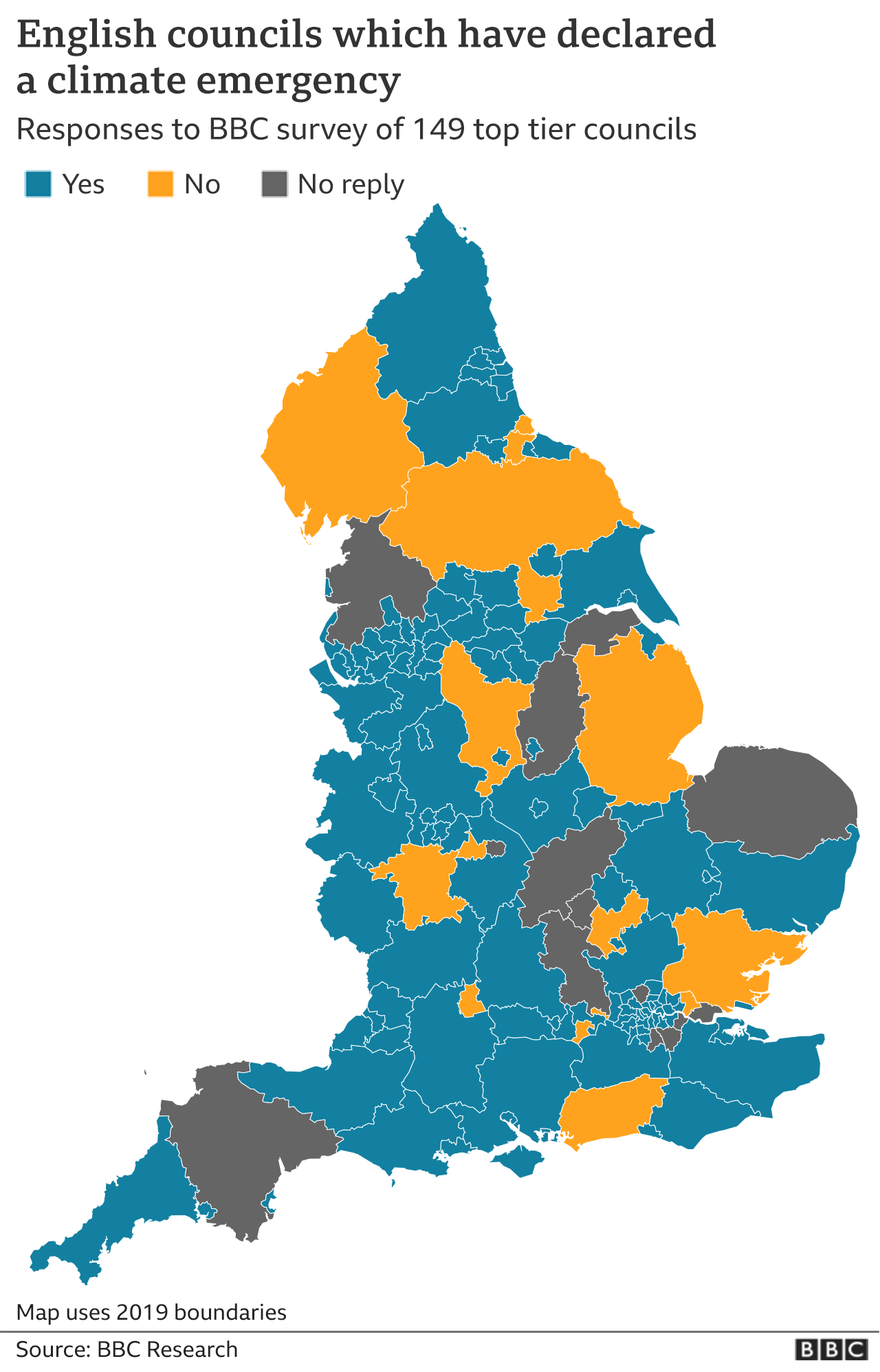 The BBC's findings highlight the tensions faced by councils trying to balance economic, social and environmental challenges.
Leeds, for example, aims to become a carbon neutral city by 2030, but the city council also backs plans to upgrade Leeds Bradford Airport.
Helen Hayden, councillor for infrastructure and climate for Leeds City Council, told BBC News: "It would seem like an inconsistency. I would say that in terms of carbon emissions the airport accounts for 1.5% of our carbon emissions.
"So we do have to keep it in context and not let it distract us from doing all those things that will actually tackle the bigger issues that are in our city.
"We need that National Policy framework so that Leeds Bradford airport does not feel it is being punished as opposed to other airports in the country – and we can therefore work with them to get our green and sustainable future."
Our survey covers England, but you would find similar results in many places round the globe.
Politicians face unenviable tensions. On one hand, there's concern for existing businesses and jobs.
On the other hand, there's the plea from scientists for radical emissions cuts.
It's taken decades for the climate message to be heard among the clamour of voters' demands for housing, transport and education.
Many councils and governments are now on a path towards curbing emissions – many are just moving far too slowly.
Take Leeds. It aspires to be a leading green city, and in many ways it is. But recently, after a marathon debate, its councillors backed an upgrade of the city's airport.
This will increase the emissions the council is committed to eliminate.
Councillors backed it because it will improve the image of the city – and because they feared holidaymakers would use another airport.