Carey Hart's Anniversary Tribute to Pink Will Make You Raise Your Glass
Carey Hart's Anniversary Tribute to Pink Will Make You Raise Your Glass
Raise your glass to Pink and Carey Hart!

The 40-year-old singer and her 44-year-old hubby celebrated their 14th wedding anniversary on Tuesday. Carey celebrated the major milestone by posting a sweet tribute to his spouse on Instagram.

"14 years married to this amazing woman," he wrote on the social network alongside a few photos of the couple over the years. "I'm so proud of the life that we have built together. Both of us came from broken homes, yet we made the choice to work hard at our relationship. And look at us now! Two misfits when we met, we have grown together and now have an amazing family. Thank you for being my best friend (I know you don't like that), and amazing mother to our wild kids. I love you so much."

The pictures showed the dynamic duo smiling from ear to ear and posing alongside their two kids: Willow Sage Hart (8) and Jameson Moon Hart (3). There was even a fun throwback shot that showed the celebrity couple on their wedding day.

Pink also shared a thoughtful message on via her account.

"So many years, So many hairstyles @hartluck….." she wrote alongside some throwback photos. "We've been at this thing a long time, babe. It isn't perfect, but I'm grateful it's ours. I love our family. Thank you for walking in front of me, beside me, and right behind me at times. "You're a real man, Carey hart."
Pink and Carey tied the knot on January 7, 2006. The bride wore a ruffled wedding dress with a haltered neckline and black sash for the occasion. Two years later, they split for 11 months.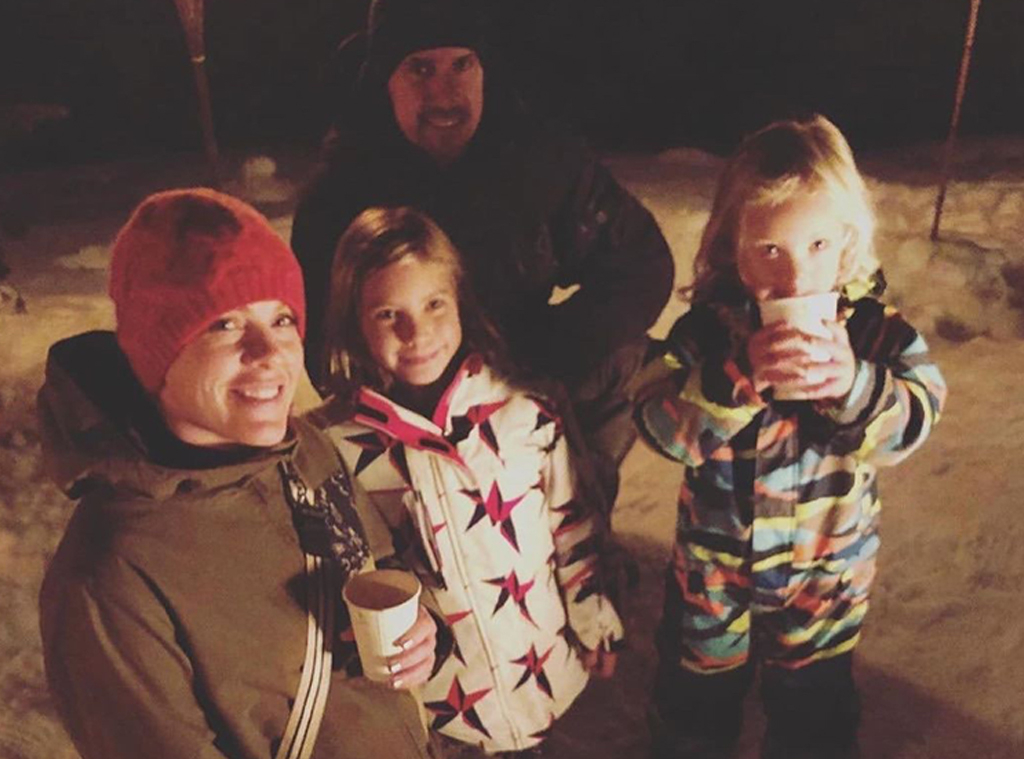 Instagram
"Eleven months after we broke up, he asked me to fly to Las Vegas to perform on New Year's Eve at his club," Pink recalled during a 2013 interview with Redbook. "I wanted to see him. And I looked hot. There's something about breaking up with someone—you just look hotter than you ever did before. I will never look as good as I did those six months after we broke up. Never! Anyway, after sound-check, I told him that he needed to come to my room. I had made him a photo album of all the cards he had ever given me, of all the photos of our entire relationship. I spent months on this album. On the last page, I pasted a photo of me from a really bad movie I made years ago with my neck slit and blood everywhere. Next to it I wrote, 'This is me without you.' On the next page, there was a picture of a baby. And I wrote: 'The rest is unwritten.' The divorce papers that we never signed were behind that page. I was like, 'The rest is up to you.' And I did all of this in his favorite bra and panties."

In 2011, they welcomed their first child. Pink gave birth to their second child in 2016.
Pink Reveals What Hubby Carey Hart Is Planning For Valentine's Day
"I made a choice a long time ago that I was going to have a successful family and that is my absolute no. 1 goal in life," she said during a 2016 interview with Good Morning America.

Happy anniversary, you two!