Budget 2021: How green is Chancellor Rishi Sunak?
With the vital COP26 climate conference beginning this weekend in Glasgow, there had been speculation over whether the chancellor would use this Budget to deliver the cash needed for the UK's future low-carbon economy.
Although Rishi Sunak didn't explicitly mention the climate, here are how some of the policy announcements could impact the environment:
Flying
Stopping flying is one of the single best things you can do for the climate – but flying within the UK will become cheaper, thanks to a halving of air passenger duty.
Mr Sunak said he was removing an anomaly in which people were taxed more to fly in the UK than to Europe. Surveys consistently show that people want frequent fliers to be taxed extra.
Greens say it'll just encourage more flying for journeys where people could take the train. The 5% of ultra-long-haul passengers will pay a higher air passenger duty.
Friends of the Earth's head of policy, Mike Childs, said: "These plans will simply prolong the UK's dependency on fossil fuels."
Cars
Despite rumours that the chancellor was set to end the freeze on fuel duty, he brought good news to drivers by extending it for the 12th year. He said that the average driver would have saved £1,900 over the period.
Environmentalists say it encourages driving further. Howard Cox from the drivers' lobby group FairFuelUK said: "We unashamedly take some of the campaigning credit for the longest period of any UK excise levy being capped.
"This is great news and some relief for hard pressed drivers."
Meanwhile, the government says it wants people to drive less, but it is expanding the road network. Ministers say it will improve connectivity and help ease bottlenecks. Environmentalists say it's inevitable that more roads will lead to more traffic.
Paul Tuohy, chief executive of Campaign for Better Transport, said: "The commitment to spend billions on road building and continue to freeze fuel duty will come as cold comfort to the many households with no car who continue to be pummelled by rising rail and bus fares.
"How can our leaders hold their heads high at COP26 with this tone-deaf Budget still ringing in delegates' ears?"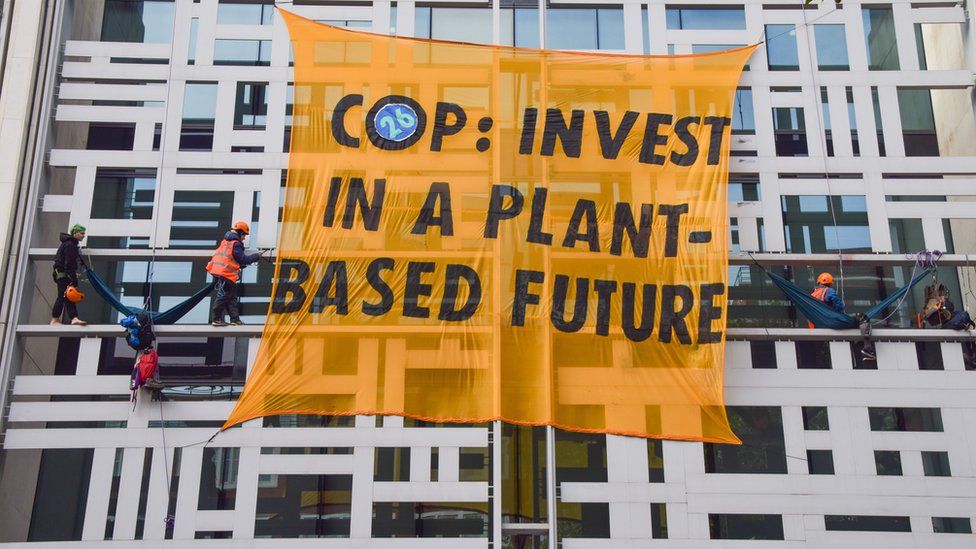 Home insulation
The radical group Insulate Britain have caused mayhem for weeks now – but it hasn't moved Mr Sunak to put more funds into home renovations.
The UK won't meet climate change targets with its current leaky housing stock, and a report suggested £10bn over three years was needed to kick-start an industry of insulation and heat pumps. But they've failed to convince the chancellor that upgrading homes is a good job-creating infrastructure investment.
Julie Hirigoyen, chief executive at the UK Green Buildings Council said: "With the COP26 conference just days away, the chancellor's announcements felt like they were from a different planet and a different time.
"There were no big announcements to fill the clear gap that has emerged around decarbonising existing buildings."
Rail
The government's investment in rail has been widely welcomed, along with a major input of £4.8bn to improve public transport within cities.
There was no news on the high-speed network HS2. The government could save carbon emissions by deciding not to build the eastern leg from Birmingham to Leeds, and putting the money into Northern commuter rail instead. That decision has been put on hold. ​
Darren Caplan, chief executive of the Railway Industry Association (RIA), said: "Whilst it is positive to see confirmation of what looks like an additional £1.5bn of funding for regional transport projects, including in rail, this Budget appears to be a missed opportunity to unleash the potential of the railways in helping the country to build back better.
"With COP26 just around the corner, too, this would have been a good time to set out the government's plans to reach a net-zero railway, including a rolling programme of electrification and fleet orders of hydrogen and battery trains."
Nuclear
The chancellor announced a new funding model for nuclear – a sort of up-front tax to fund a new power station.
Environmentalists are divided over nuclear, but Tom Greatrex, chief executive of the Nuclear Industry Association said: "This is a big vote of confidence in nuclear and a historic step forward for nuclear investment, with new money for a large-scale project, alongside money for modular reactors to enable future projects."
"We can't get to net zero without investing in new nuclear capacity."
Other reaction
Friends of the Earth said the Budget contained more about beer than the climate.
Green MP Caroline Lucas said: "The climate-shaped hole at the heart of this budget couldn't be more glaring. With more money for roads, and with short haul flights cheaper, it actually took us backwards. It's hard to think of a greater dereliction of our responsibility as COP hosts." ​
Worryingly for people concerned about the environment, Mr Sunak has made it clear he won't borrow to tackle the climate crisis because he needs to mend the government's finances.
A government spokeswoman told BBC News: "The policies and spending brought forward in the government's Net Zero Strategy mean that since the Ten Point Plan we have mobilised over £26 billion of government capital investment for the green industrial revolution.
"Along with regulations, this will support 190,000 jobs by 2025, and 440,000 jobs by 2030, and leverage up to £90 billion of private investment by 2030."
The COP26 global climate summit in Glasgow in November is seen as crucial if climate change is to be brought under control. Almost 200 countries are being asked for their plans to cut emissions, and it could lead to major changes to our everyday lives.