Biden administration defends Iran prisoner exchange deal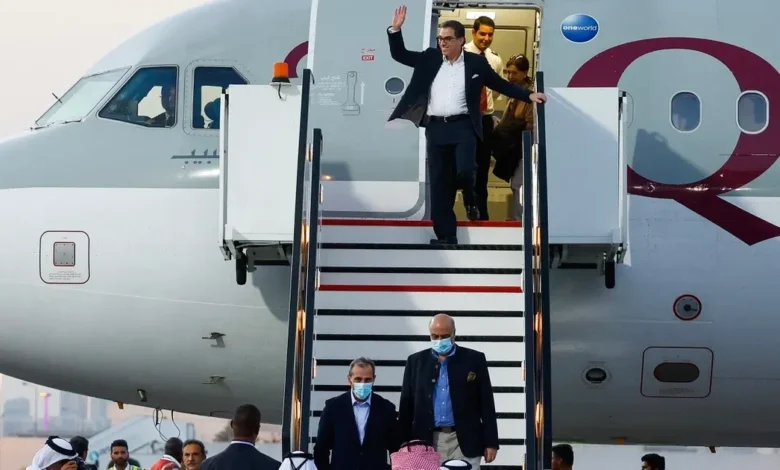 Five Americans were freed from Iran on Monday, senior Biden administration officials said, in exchange for releasing five Iranians from US custody and unfreezing $6 billion in Iranian funds abroad.
The wrongfully detained Americans include Siamak Namazi, Emad Shargi, Morad Tahbaz, and two other Americans who wish to remain private, a senior Biden administration official told reporters ahead of the exchange.
Siamak's mother, Effie, and Morad's wife, Vida, were also on the plane out of Tehran after having been previously banned from leaving Iran.
The seven individuals went to Doha to depart "as quickly as possible" before going to Washington to be reunited with their families.
US President Joe Biden thanked Qatar and Oman for helping facilitate the release of the five wrongfully detained Americans. He also warned US citizens of the serious risks of traveling to Iran, saying: "American passport holders should not travel there." He also said "too many" Americans remained unjustly held in Russia, Venezuela, Syria, and elsewhere around the world. He said Washington would not stop working until every American held hostage or wrongfully detained returned home.
The Pentagon will offer services to families needing help to reintegrate into normal life.
In return for the safe return of the Americans, five Iranians will be granted clemency.
According to the official, they have all been charged or convicted with non-violent crimes. Two of the five have been in prison, and their sentences were "about to expire," the official said. The other three were awaiting trial and had not yet been convicted.
Two of the Iranians, who do not have legal status in the US, are expected to return to Iran. As for the other three, a second senior administration official said their status "may still need some time to play out."
The first official said it was a "complicated endeavor."
No US funds being released
The US officials were quick to bat down criticism for the deal, mainly from Republicans and former Trump administration officials.
Critics have said the release of $6 billion will only encourage Iran and other US adversaries to continue hostage-taking for ransom.
The money Iran will now have access to comes from South Korea for oil it had purchased from Iran years ago, some of which took place under the Trump administration, said the first official.
After being moved from South Korea in a restricted account, the money will now be in another restricted account in Qatar "where they will be available for a very limited category of humanitarian transactions."
The US officials said this includes food, medicine, medical devices and agricultural products.
They also said there would be a stringent monitoring process to ensure the funds were not used for any sanctionable purchases.
Iranian officials have repeatedly claimed that they will be able to use the money for whatever they want.
But the US officials said they would take action to "lock up" the funds if Iran tried to divert them for anything other than the humanitarian purposes agreed to.
"No money ever goes to Iran," the first official suggested.
The money is also Iranian, and "these are not taxpayer dollars," the official added. "No funds into Iran, ever, nor do any funds get paid to Iranian companies or entities."
Both officials defended the deal when asked what message this could send Russia, which is detaining multiple Americans, or other countries.
"I do think we start with the question of what message would it send to Americans if they were wrongfully detained in a place like Evin prison for years and had no hope of coming home?" the second official said in response to a question .
No sanctions being lifted, only more issued
Next month, a UN arms embargo on Iran is set to expire. European countries had previously considered letting it run out as part of efforts to revive the 2015 nuclear deal, which the US withdrew from under the previous administration.
Asked what the Biden administration's stance was on the embargo expiring, the first official said the US government was not lifting any sanctions, even as part of the prisoner exchange.
The US issued sanctions waivers as part of the deal to allow the funds in South Korea to be transferred to Qatar, outside the US financial system. "But that was for that limited purpose to allow the funds to transfer through some European banks ultimately on their way to Doha," the official said.
Addressing the October arms embargo expiration, the official said Washington would not lift any sanctions and was in active discussions with European partners to ensure that sanctions remain enforced, "particularly when it comes to Iran's missile and drone program.
The official also said the US was absolutely committed to ensuring Iran never acquired a nuclear weapon.
The official said this week's deal does not change the US relationship with Iran. "Iran is an adversary and a state sponsor of terrorism. We will hold them accountable wherever possible."
Increased US troop presence in Middle East
The officials said the increased US force posture in response to Iranian and Iran-backed attacks on US troops in the Middle East has been effective.
They pointed to no attacks on US forces in Syria in over six months when the US retaliated for strikes that injured US troops and killed one US contractor.
No attacks on US troops in Iraq in 13 months have been recorded, the officials said.
The official said that Washington has also increased its interdiction posture to deter weapons shipments into Yemen, adding that the world has witnessed one of the "quietest periods" since the war started in 2014.
"We are focused daily on a policy for the Middle East that combines deterrence with diplomacy to reduce the risk of Iran's aggression while de-escalating conflicts through diplomacy wherever possible and contributing and building a more stable, integrated, prosperous Middle East region."