Bee-eaters in Norfolk 'worrying sign of climate change'
Rare "rainbow birds" trying to breed in the UK was a "worrying sign of how our climate is changing", the RSPB said.
The charity said bee-eaters had been making nest burrows in a small quarry at Trimingham, near Cromer, Norfolk.
The exotic birds are usually found in southern Europe and northern Africa.
Mark Thomas from the RSPB said: "While an incredible sight, we mustn't forget that the arrival of these birds to our shores is due to changes to our climate and subsequent pressures on wildlife.
"Pushed northwards by climate change, these exotic birds will likely become established summer visitors in the future, having been an early and unmissable sign in the past two decades that the nature and climate emergency has reached our shores."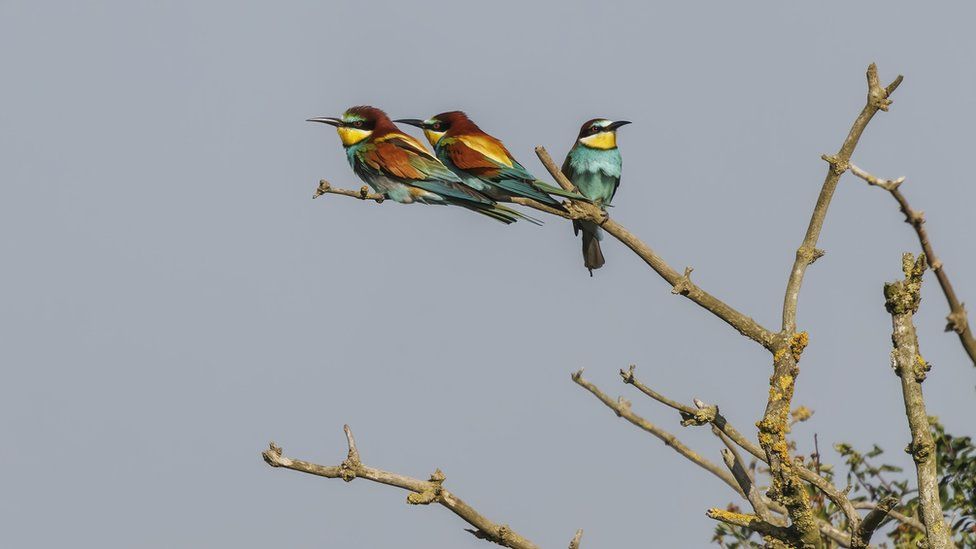 The RSPB said it was "closely monitoring the breeding attempt" of the seven brightly-coloured birds in Norfolk.
About the size of a starling, bee-eaters can be identified by their red backs, blue bellies and yellow throats.
As well as bees, they feed on dragonflies and other flying insects, which they catch in mid-air.
Mr Thomas said: "These seven bee-eaters are certainly the most colourful and exciting birds you can see in the UK right now.
"In 2017, thousands of people caught sight of the birds in Nottinghamshire, and we expect the same will happen again here in Norfolk."