Aitch on his rise to fame: 'I've still got goals to achieve'
"You don't even want to see the mess in here, to be honest."
Manchester rapper Aitch is on Zoom from his tour bus in Leeds, diligently angling the camera away from the floor, the night after a launch party for his debut album, Close To Home.
The 22-year-old has grown used to life on the road, ever since he broke out with his tongue-twisting freestyle Straight Rhymez in 2018.
That track, intended as a throwaway placeholder for his YouTube channel, racked up millions of streams and brought him to the attention of Stormzy, AJ Tracey and Ed Sheeran – who all invited the baby-faced rapper to guest on their tracks.
In the last three years, he's scored seven UK top 10 singles, from the cocksure boasts of Taste (Make It Shake) to this year's Ashanti-sampling Baby.
With a best new artist nomination at the Brit Awards, and a brief but high-profile relationship with Amelia Dimoldenberg, he's installed himself as one of UK rap's most colourful and recognisable stars. So why did it take him four years to release his debut?
"Not for any particular reason," he shrugs. "It was all going so well without an album that I just didn't feel like I had to rush it."
Later in our conversation, though, he suggests he simply wasn't ready.
"I feel like my music in the past – especially, like, early days – it's never really had any meaning to it.
"Back then it would just be, 'Let's let's just say loads of rhyming words and make it sound good.' Whereas I tried to make a difference with this. In the studio, I'd be trying to think of something that genuinely means something and sends a message."
The innuendoes and goofy wordplay haven't vanished completely, but tracks like Belgrave Road and Sunshine deliver more honest reflections on life, fortune and fame; while My G is a heartfelt letter to his younger sister, Gracie, who has Down's Syndrome.
"That's just a little personal one," says Aitch, shyly. "I don't care whether that gets one stream or one billion streams. I just wanted her to hear it and know where I stand."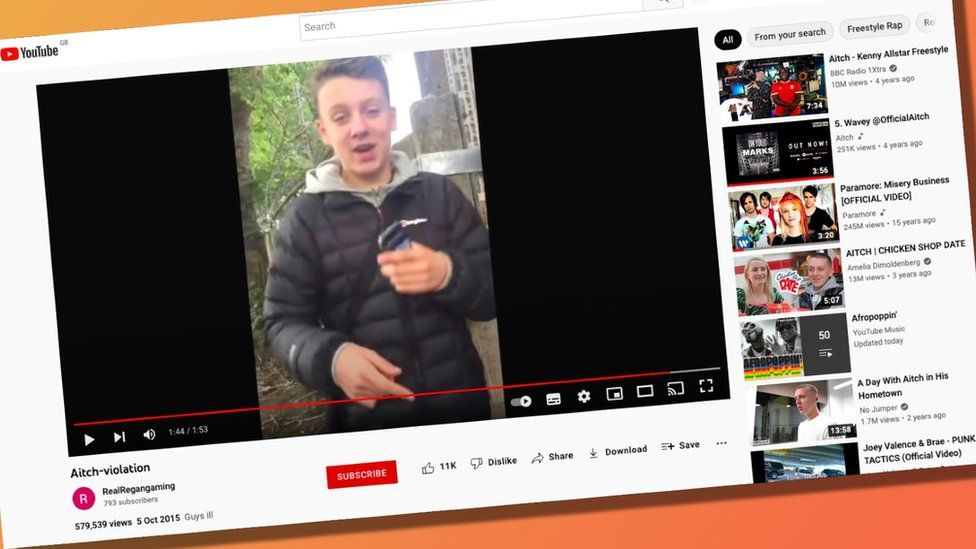 Aitch was born Harrison Armstrong in New Moston, in north Manchester. His father was a pipe fitter, while his mother looked after his younger sister.
"I was a stereotypical Manchester kid," he says. "I'd spend most of my time trying to climb trees or something stupid, and come home with dirt all over my face, food all over my T-shirt."
He wasn't particularly academic, leaving school with three GCSEs before studying sports science, with notions of becoming a PE teacher.
Music ended those plans – but his emergence as an MC was pretty haphazard.
He first tried rapping as a joke, imitating a character from Scary Movie to make his mates laugh on the steps of an abandoned church where they'd hang out to drink.
It was there, in 2015, that one of Aitch's friends inadvertently launched his career.
"I was drunk in the park – I do not advise anyone to get drunk in the park, by the way, disclaimer – but I finally built up the courage to spit bars in front of everyone.
"When I finished and we was watching the video back, I was like, 'Yes, sick, but that's just for us. Don't put that anywhere.' By the time I got home, the video's on YouTube and I was like, 'No! What are you doing to me?!' I was proper mad."
He changed his mind when the clip got 10,000 views. "which, at the time, for where I was from, was crazy".
The next video got 20,000 views. Then the Straight Rhymez freestyle went viral, thanks to its tongue-in-cheek lyrics about dates in burger restaurants and cycling home with "half a bottle of vodka in my pocket".
Filmed outside his family home, the video was funny and authentic, with Aitch's rap style – slightly breathless, always catching up with the beat – showcasing his laid-back, conversational patter.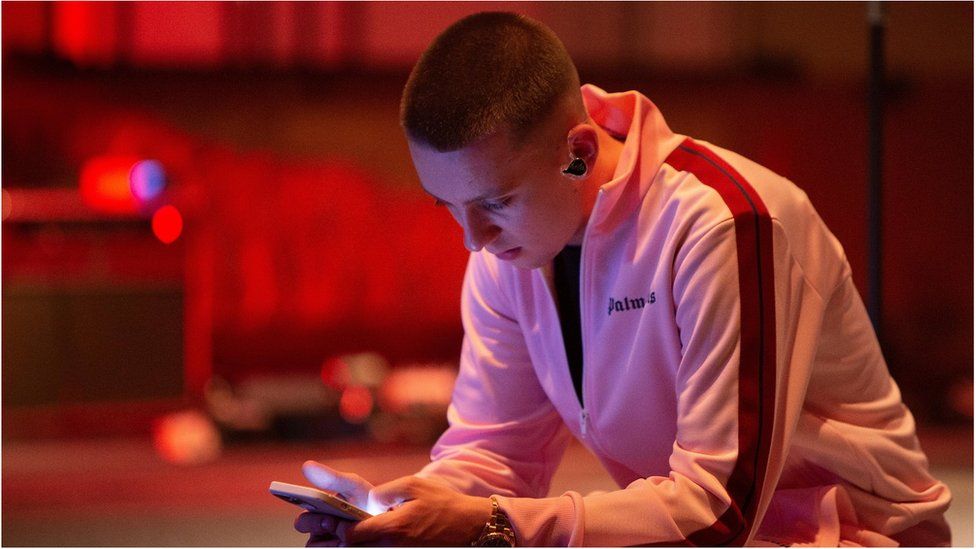 Recorded as a throwaway introduction to his YouTube channel, it was the first song to get Aitch noticed outside Manchester.
"When the video entered London territory, it's like everyone's seen it at once," he recalls. "I'd go on my comments section and see Stormzy, AJ, Ghetts, Chip… It's all a big blur really."
Record labels were interested too; and a deal with the Sony imprint Since 93 meant he could finally stop working as a labourer for his granddad.
The hits came fast after that.
A guest verse on Russ Million's viral Keisha & Becky Remix got him a top 10 single in May 2019, while the Young T & Bugsey collaboration Strike a Pose went to number nine a month later. By August, the lascivious Taste (Make It Shake) became his first solo hit, peaking at number two.
He almost threw a spanner in the works during a 2020 radio interview, where he declared: "I promise you now, no one younger than me is bothered about grime".
A flurry of tweets followed, with Wiley and Lethal Bizzle calling his comments "disrespectful".
"If grime's not here, we don't exist," Lethal Bizzle protested. "I don't exist, you don't exist, everybody doing black urban street music doesn't exist. Think about what you're saying."
Aitch's response has always been to acknowledge his deep love of grime (Wiley's Eskimo is one of the first beats he rapped over) while insisting that UK rap is evolving beyond its inner city roots.
"We always say you can judge your fanbase by an airport run," he says. "And I get 13-year-olds, 45-year-olds, people's grandmas, people's sons. It's a wide range, so I felt like I needed to appeal to everyone."
His album makes that explicit. Fuego and Bring It Back contain the skeletal beats of grime, but other tracks lean more heavily into pop-rap, from the Gorillaz sound-alike In Disguise to the children's choir on Close To Home.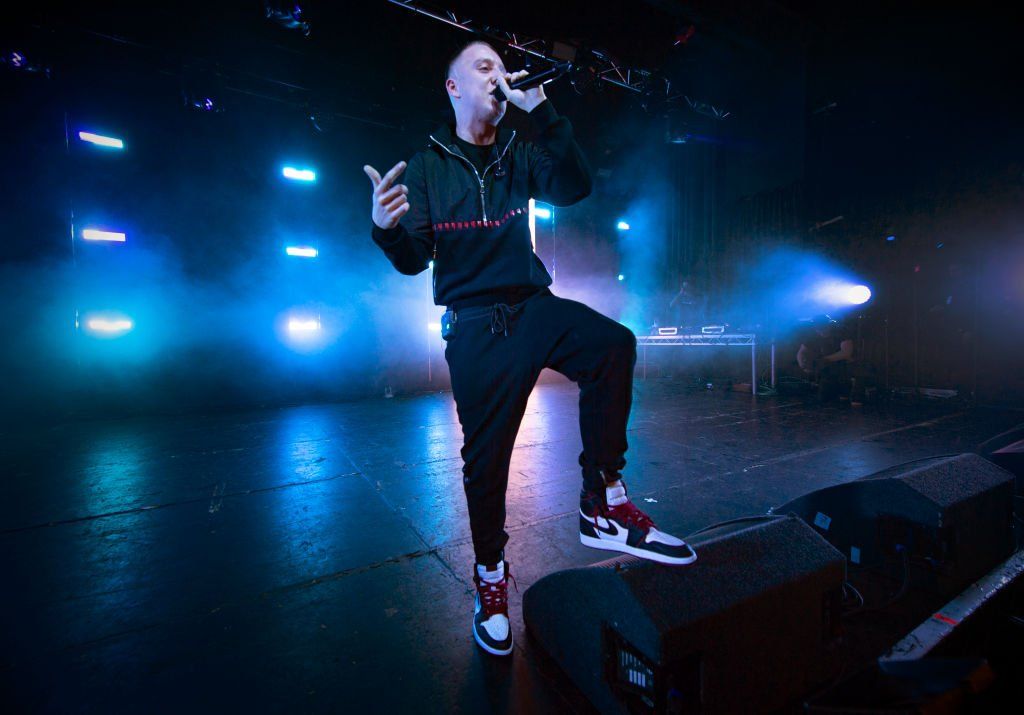 1989 is Atich's homage to Manchester, cannily sampling The Stone Roses' Fools Gold as he drawls: "Took the city and I made it mine / Put my shades on and rave like it's '89."
It's his way of staking a claim to the city's musical legacy.
"Ask anyone if they know Aitch, and if they say 'Yes', ask them where he's from. They'll all say Manchester," he says.
But his status as the city's poster boy unravelled last week when a local mural of Joy Division's Ian Curtis was painted over to promote his album.
"It's annoying because I don't have any control over it," he says. "I don't decide where to put the billboards, they just turn up.
"As soon as we got wind of it, we told them to stop, take it all down and then got hold of the artist who originally done that Ian [mural]. We're gonna get him to re-do it."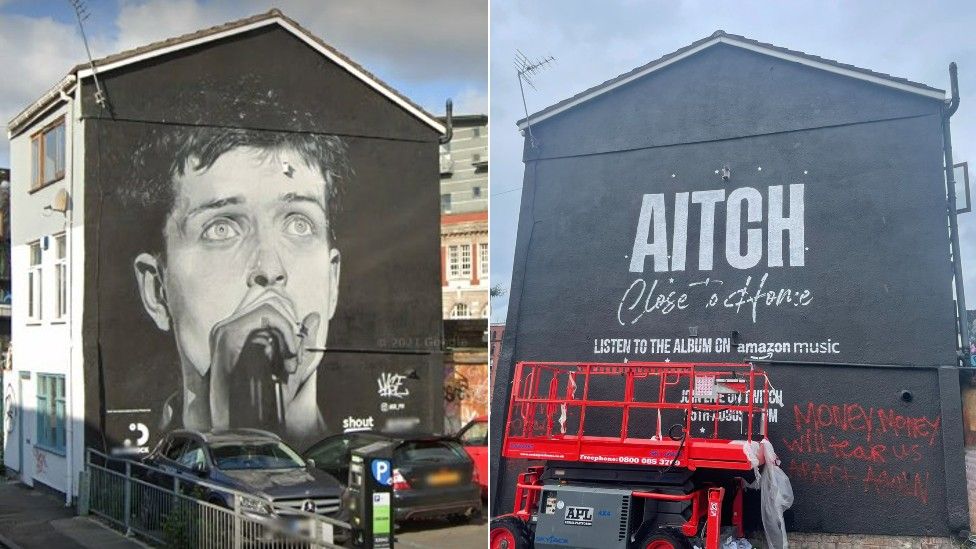 His response was praised by the surviving members of Joy Division. "Thank you, great gesture," wrote Peter Hook on Twitter; while Bernard Sumner added: "Aitch said he's going to put it right… no harm done".
Aitch hadn't seen their statements when we spoke last Friday, but seemed satisfied when they were read to him.
"As long as I've got their approval then it's all good."
He's such an affable, upbeat character that it's hard to imagine him ever seeing anything but the bright – but his album's opening track suggests fame has come with major downsides.
"Sitting on my throne with an open stare / 'cause to me it's just a broken chair," he raps. "I love it at the top, but it's cold up there."
The lyrics first appeared on his Instagram page last year, followed by an announcement he was taking a break. It prompted some hysterical parts of the media to proclaim he'd quit music but, looking back, he says he was "just daydreaming".
"I'm not the type of person to always be expressing my problems to everyone, so I felt the only way to do it was to make a song about it."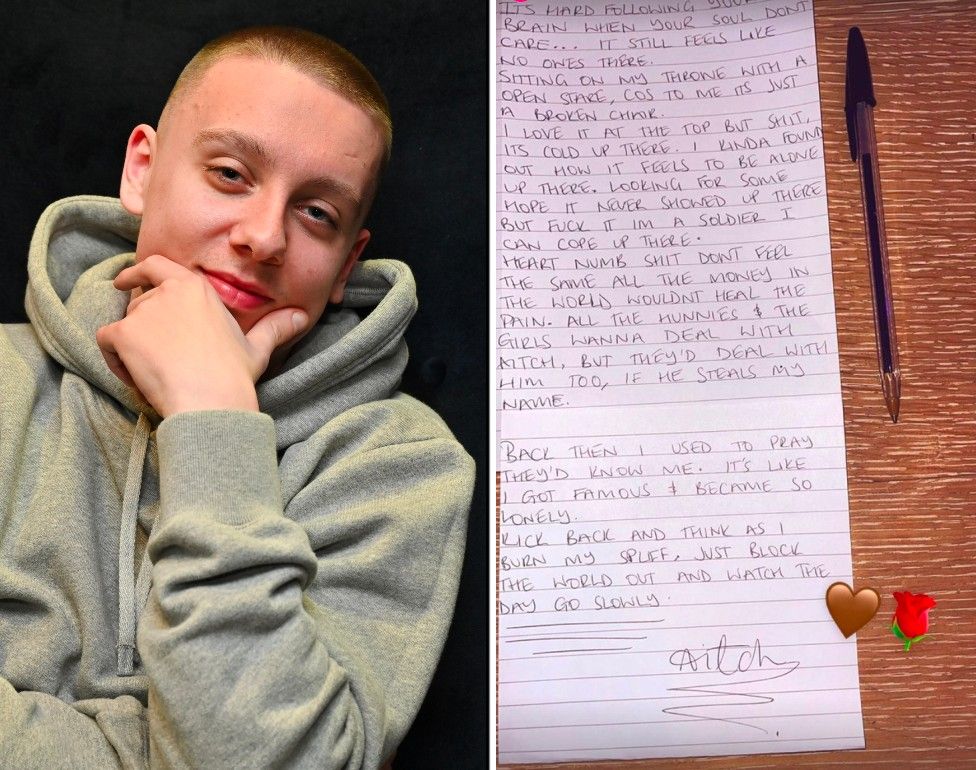 In any case, he says, he could never quit music.
"I always beg for time off and, when I finally get some, by the second day, I'm like, 'Oh, what am I even doing?'
"I don't really think it's good thing for anyone to have too much time on your hands. I always need to be busy, or at least doing something active, even if it's going to play football."
More often than not, he ends up in the studio listening to beats with his producer WhyJay. On Baby, he admits his work focus makes it hard to maintain personal relationships.
"I'm not where I want to be yet," he says. I've still got goals to achieve. And then you get into a relationship and 50% of your time gets chopped straight away. So yeah, that song's just about trying to make it work and, unfortunately, it not ending up working."
This will come as tragic news to the lovestruck fans who, in the comments under his first video, still debate whether Aitch looks better with long hair or a shaved head.
"I think I'd go shaved head, personally," he laughs. "I do miss the long hair, though. I do wish I still had it sometimes.
"Maybe on album three. Down to the shoulders, all that stuff. 100%."