98 Degrees Reveals the Britney Song They Passed On and How They (Mostly) Avoided Boy Band Feuds
No need to take the temperature of the room: 98 Degrees is officially fired up about getting back out on the road.
"We were so used to performing together and being together that it felt really strange not to be doing something," Nick Lachey told E! News in a recent interview with the whole group as their 98 Days of Summer campaign got underway (hello, epic '90s throwback pics!). "As soon as we could possibly get together, we created a little bubble in Vegas and went and recorded there and started recording some new music for the first time in a long time. I think we were all just itching to do it because it had been way too long."
They had planned to be performing all throughout last year, but…music fans know how that went.
"We were all excited," agreed Jeff Timmons, who founded the group in 1995 with fellow Ohioans Nick and Drew Lachey and Justin Jeffre. "We all appreciate each other and the journey we've been through together. But with the pandemic, as crazy as that was for everybody on the planet, you're like, 'Wow.' You really grow more appreciative for the opportunities you have to do stuff like this, especially like this, right? So, we kind of all talked to each other and were like, look, let's not go back and just do the dates that we were supposed to do in the past, let's try to do some new music and put some new stuff out there for our fans.
"I mean, they've been so loyal and they've turned out for us better than we expected after being gone so long and have been more loyal than ever, so we were like, let's give them something that's new and exciting from us."
The first fruit of their creative labors will be the single "Where Do You Wanna Go"—a "summer fun song," Justin described it—dropping July 9.
"Honestly, I think we sing better and we sound better than we probably did back when we first started," Nick said. "I think we've all worked really hard to be where we're at and we come together really well, we're having more fun than we've ever had. So, I think what we're doing now is better than what we've ever done, frankly. We're excited."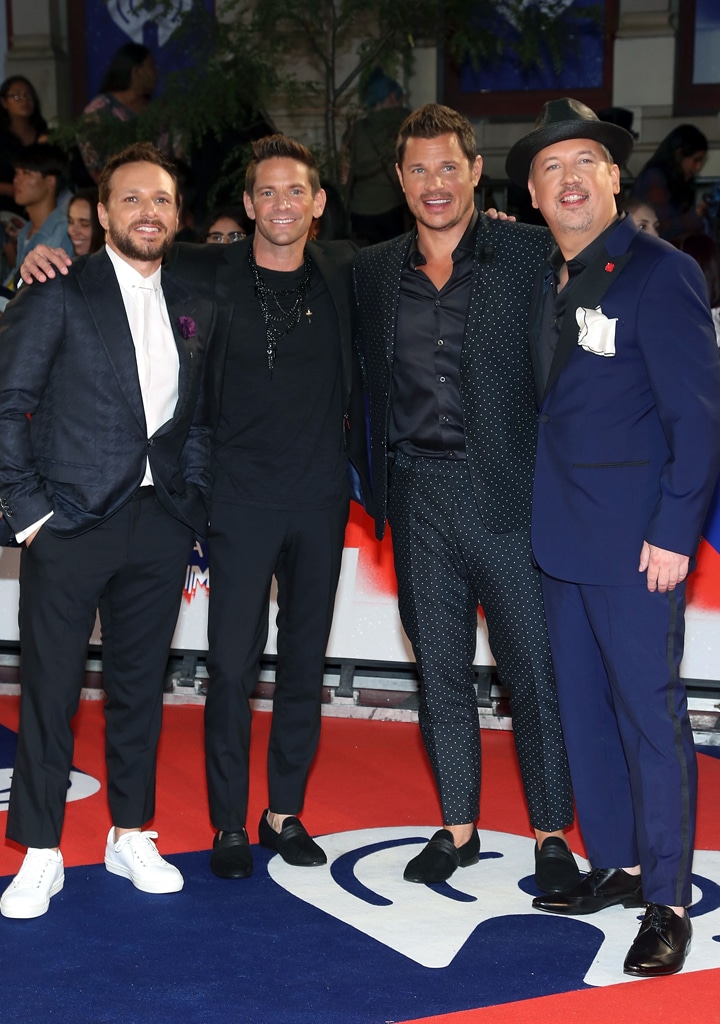 Isaiah Trickey/FilmMagic
And let's remember, it's no small feat to still be psyched about going to work together after 26 years, when so many bands scatter to the four winds after a tiny fraction of that time. (98 Degrees did announce a hiatus in 2003 but, just as they assured their fans, it was not a breakup.)
"I mean, anybody who tells you that being in a group is all rainbows and butterflies is lying to you," Drew said. "It's just like any relationship. You have to work at it. There are going to be times where you need to just step away from it and calm down. But I think ultimately what works for us is we all respect each other, we all respect what each of us brings to the group as individuals and I think that we each share a common goal. And as long as we stay united in that goal and focus on that goal, and we have that in common, then we're good."
Nick compared it to a marriage, explaining, "As long as you respect each other as human beings and as brothers, you're not always going to get along but at least you respect that person enough to say this is not the time for that, take a step back. And it didn't come easily. Like any group, we've taken our lumps and had our fights and arguments and whatever, but you get to a place, especially now later in life when you have better perspective, and we truly appreciate what each other brings to the group and, more than anything, respect our journey together."
The elder Lachey brother, who branched out as a solo artist and TV host during the group's decade-long hiatus, said, "I can speak for myself that I'd much prefer being on stage with these guy. It's much more fun. It's a brotherhood, it's a comradery that we've formed over 27 years, is that what you [looking at Drew] said? Crazy."